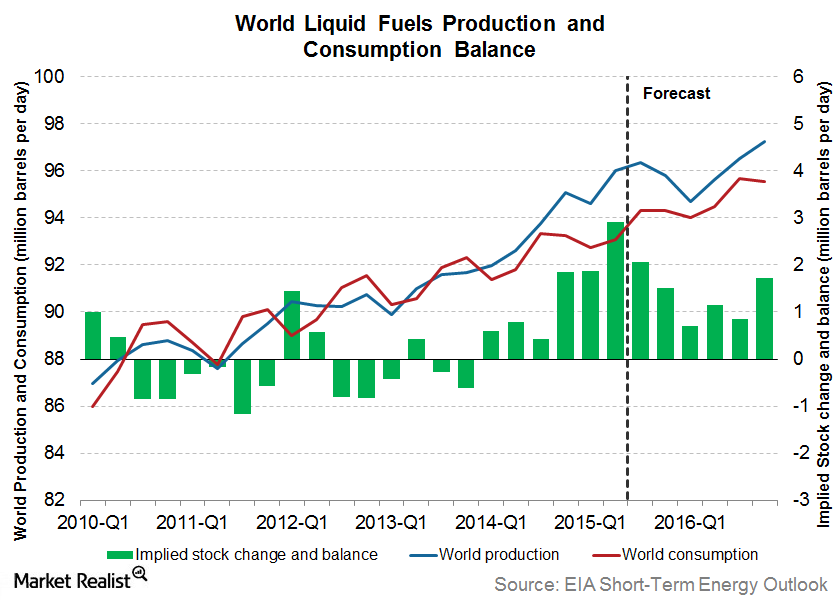 Energy Sector Headwinds: Supply Side Poses a Challenge
By Russ Koesterich, CFA

Nov. 20 2020, Updated 11:39 a.m. ET
The supply side of the equation has also been challenging, particularly for energy. A greater than 50 percent reduction in the U.S. rig count has only just started to slow U.S. domestic oil production. As shale producers improve efficiency, production has risen. Today, the United States produces roughly 300,000 barrels per day (or bpd) more than a year ago. At the same time, following the tentative nuclear accord with Iran, many Gulf states are ramping up their own production in what appears to be a somewhat desperate effort to maintain market share.
Article continues below advertisement
Energy Sector Headwinds – Oil Supply Glut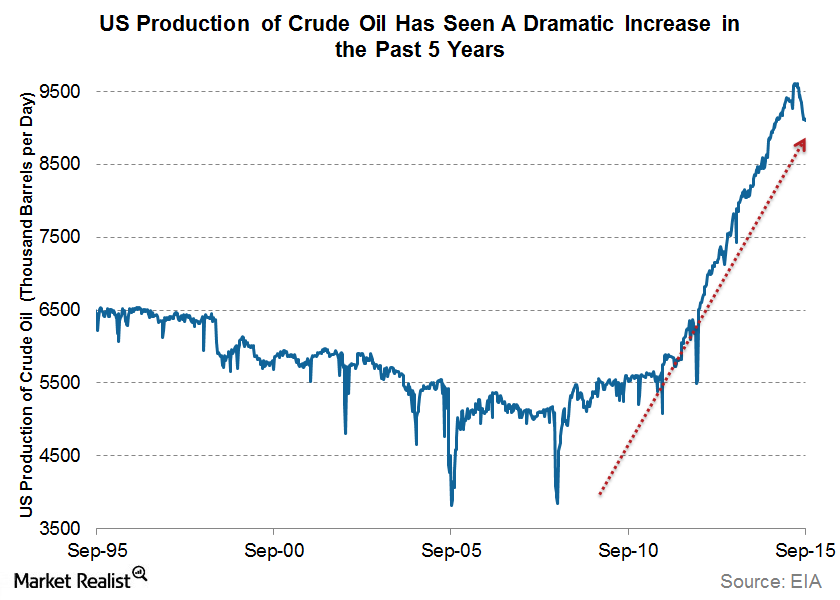 Market Realist – The supply side is adding to energy sector headwinds (IXC). While demand growth has cooled off due to a growth slowdown in emerging markets (EEMV) (SCHE) led by China (MCHI), oil supply has been rising. This has thrown the balance out of whack, causing excess oil supply (XOP) and a steep fall in oil prices (BNO).
The above graph shows how US production of crude oil (IEO) has ramped up dramatically over the last decade. This is largely on account of the fracking revolution. Despite the recent decline in US rig counts, US production continues to be much above the levels seen in 2010.
On the other hand, OPEC does not show any signs of relenting either. According to a survey by Reuters, OPEC supply increased to 31.68 million bpd in September from 31.57 million bpd in August. Moreover, in a bid to retain market share, Saudi Arabia reduced prices of its light-crude deliveries to Asia by $1.7 per barrel on Sunday (Source: Reuters, Wall Street Journal). Prices for heavy oil to the Far East and to the US were also slashed by $2 per barrel and $0.3 per barrel, respectively.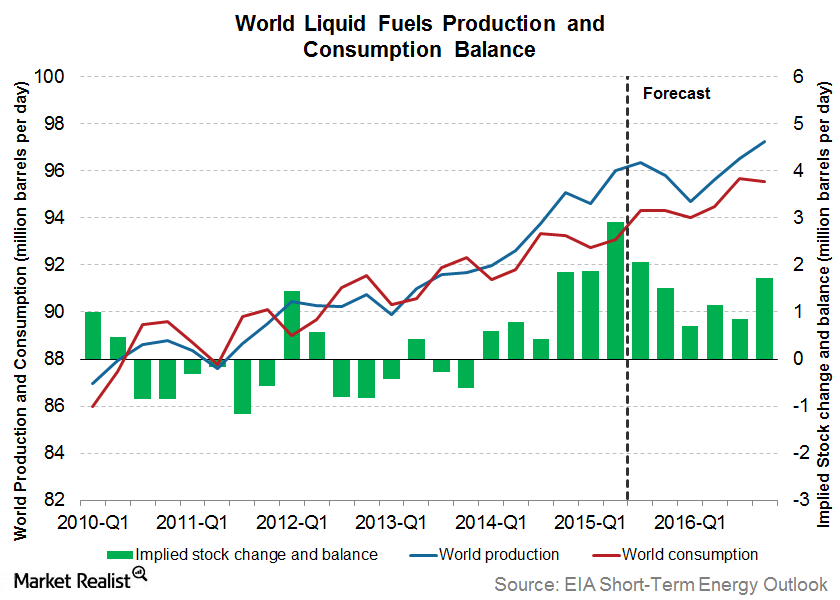 The previous graph shows the EIA's estimates of world liquid fuels production and consumption. Consumption continues to trail production, a trend that is estimated to continue in 2016. This is a clear illustration of the oil demand and supply mismatch, a dampener for crude oil prices. Given these trends, energy sector headwinds (OIH) are not likely to dissipate anytime soon, meaning that a bottom can not be called just yet.
Read on to the next part of the series to understand why the future outlook for the energy sector continues to look bleak and what the implications of this are for investors.