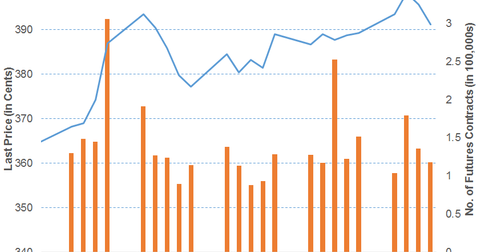 The Early October 2015 Corn Harvest: a Five-Year High?
By Sean Brown

Updated
Corn prices decline
On October 8, 2015, trading on CBOT (Chicago Board of Trade) December contracts for corn futures dropped by 1.14%, settling at $3.91 per bushel. The decline was due to ongoing technical selling and weaker than anticipated export sales data. ETFs like the Teucrium Corn Fund (CORN) followed CBOT, declining on October 8, 2015, by 0.8%.
The US Department of Agriculture's Weekly Export Sales Report, which released on October 8, 2015, showed a 31% decline in net corn export sales to 519,700 metric tons. Compared to one week prior, net exports were poorer than expected. Given corn surpluses, this poor export sales data resulted in lower demand sentiment, which helps explain this decline in corn prices on October 8, 2015.
Article continues below advertisement
Geography and weather
Among the major contributors to the decline in corn export sales were Panama and Honduras. On the other hand, corn net export sales increased for destinations like Mexico, Bangladesh, Jamaica, and Japan. Overall weekly exports were down by 40% from the prior week. The primary stations registering rises in export sales were Japan, Mexico, Bangladesh, El Salvador, Colombia, Guatemala, and Panama. Amid the stronger expectation of the demand, weaker export sales data hurt consensus expectations for the short term.
The warm and dry weather conditions in early October 2015 have helped the corn harvest. It might not be an overstatement to claim that such weather conditions could provide the opportunity for a record harvest chase—even one that beats the five-year average. Traders and speculators thus expect the WASDE (World Agriculture Supply and Demand Estimation) report, which releases on October 9, 2015, to show reductions in supply.
Technical selling has continued to flourish as of October 8, and the general expectation is for the same to continue until the report releases on October 9, as some speculators want to keep risks in check. 
Performances of key businesses
Stocks for ConAgra Foods (CAG), Tyson Foods (TSN), Bunge (BG), and CHS (CHSCP) increased by 2.03%, 3.07%, 0.82%, and 0.07%, respectively, on October 7, 2015. However, the Power Shares DB Agriculture ETF (DBA), which has holdings in these companies, declined by 0.05% on the same day.
Read the next part of this series for further assessment of the WASDE's report and its potential impact.