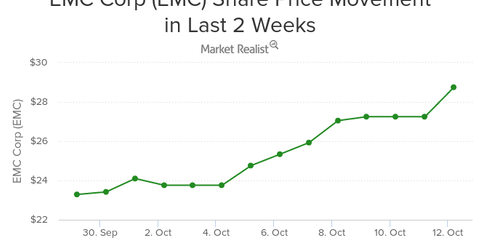 Dell's Proposed Acquisition of EMC for $67 billion
By Anne Shields

Updated
EMC finally gets a buyer
On October 12, 2015, according to a Wall Street Journal report, Dell (DELL) and its investment arm, Silver Lake Partners, announced the acquisition of EMC Corporation (EMC), including VMware (VMW), for $67 billion. The deal will be subject to regulatory approval and will create one of the largest privately held corporations in the world. EMC currently owns an 80% stake in VMware, which will continue to function as a publicly traded company.
Please read Why EMC, VMware, and Pivotal Form a Unique Business Model to know EMC's business model in detail.
In August 2015, news surfaced that there would be a strong possibility of EMC being bought by its own subsidiary, VMware. EMC has been reeling under considerable pressure by Elliott Management, headed by Paul Singer, to consider itself breaking up.
[marketrealist-chart id=720322]
The above graph shows the share price movement of EMC over the first week of October 2015. On October 8, EMC's shares rose by 4.7%, on the back of the potential deal with Dell, to $27.18. The share price has continued its upward journey since then.
Article continues below advertisement
Dell's cash and stock offer for EMC shareholders
Dell has offered EMC shareholders approximately $24.05 per share in cash. It has also offered $9.10 of tracking stock, which tracks the share price in VMware in relation to EMC's share in VMware. The combined $33.15 per share is at an approximate 28% premium above EMC's closing price on October 7, 2015.
If the Dell-EMC's deal comes through, the joint company will have a wide range of offerings spanning cloud computing, mobility, and cybersecurity. In light of this deal, Cisco Systems (CSCO), IBM (IBM), and the Hewlett-Packard Company (HPQ) will now be forced to revise their strategies in order to gain momentum in the enterprise computing space.
You can consider investing in the SPDR S&P 500 (SPY) to gain exposure to the technology sector. The ETF invests about 18% of its holdings in the technology sector.
In subsequent parts of this series, we'll discuss the various factors that led to the proposed Dell-EMC deal, which would be the biggest acquisition to date in technology space. Read the next part of the series for a discussion of Elliott Management's role in the deal.