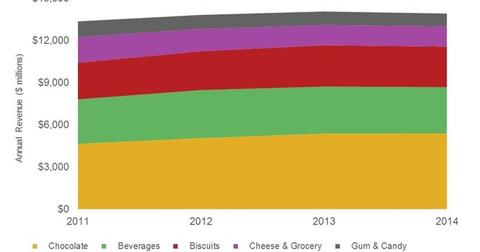 A Deeper Strategy behind Mondelēz's Possible Divestiture
By Phalguni Soni

Oct. 2 2015, Published 2:10 p.m. ET
Profitability analysis for Mondelēz
As we discussed in the last article, the sales performance for Mondelēz's (MDLZ) cheese and grocery business (XLP) has shown a declining trend in recent years. Mondelēz doesn't report specific profitability numbers for its consumer segments, but the company's chairwoman and chief executive officer Irene Rosenfeld said that the Europe cheese and grocery business had "good margins" and its "cash flow is good."
The category, particularly the Philadelphia brand, has performed well in 2015 year-to-date. However, the company was unhappy with the performance of its Europe segment overall in 1H15.
Article continues below advertisement
Business objectives in the consumer sector
Mondelēz's divestiture discussions for its Europe cheese and grocery category, as reported by Reuters on October 1, are reflective of a trend seen in consumer companies lately.
Prominent companies have been actively trying to improve performance by offloading non-core and underperforming brands and businesses. They've also been snapping up companies and brands that make sense to their long-term objectives and are likely to result in profitability enhancement.
These include Procter & Gamble (PG), which has divested about 60% of its brand portfolio over the last year. To learn more about the divestitures, read Procter & Gamble Divestitures: Is 43-Brand Coty Deal the Last?
General Mills (GIS) sold off its Green Giant and Le Sueur brands of frozen vegetables to B&G Foods (BGS) in a $765 million cash deal in September 2015. At the same time, General Mills paid $820 million for Annie's last year. Annie's deals in organic and natural foods, a high-growth category in the food and beverage (VDC) (FXG) industry.
Coffee brands spin-off
Mondelēz itself spun off its coffee brands in a joint venture with D.E. Master Blenders 1753 to form JDE (Jacobs Douwe Egberts). The transaction was completed in July 2015. Mondelēz has a 43.5% share of the joint venture. It will account for the stake through the equity method of accounting starting from 3Q15.
While the coffee business wasn't underperforming by any means, the transaction had a more strategic focus. The next article discusses Mondelēz's transformation and future focus.
Kraft Heinz, General Mills, and Procter & Gamble together constitute 5.7% of portfolio holdings in the First Trust Consumer Staples AlphaDEX ETF (FXG).