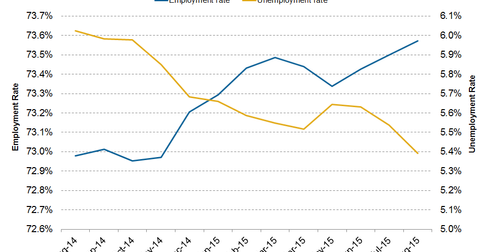 Declining Unemployment Hints at Tightening Labor Market in the UK
By Lara Sheldon

Updated
UK unemployment rate fell to 5.4% in August 2015
According to the Office for National Statistics, the unemployment rate in the UK dropped to 5.4% in the three months to August 2015 from 5.5% in the prior period. Over the past year, the UK-focused iShares MSCI United Kingdom ETF (EWU) is down by 3.7%, but it rose by 2.7% over the past month as of October 14. Stocks tend to perform better as the unemployment rate comes down. Consumer staple stocks British American Tobacco (BTI), Tesco (TSCDY), and SABMiller (SBMRY) were up 7.6%, 9.1%, and 31.3%, respectively, over the past month as of October 14.
Article continues below advertisement
Average weekly earnings growth rose to 3.0% in August
The employment rate stood at 73.6% in August, the highest since comparable records began in 1971. Along with the unemployment rate, average weekly earnings growth data also came out. The average weekly earnings including bonuses rose 3.0% as compared to 2.9% in July 2015.
Household earnings rise with an increase in employment. Job security boosts consumer confidence and helps in increasing demand for goods and services in the economy. Over the past week, beverage stock Diageo (DEO) rose 0.42% while travel and leisure stock Carnival (CUK) rose 0.96% as of October 14.
With the slowdown in China and falling crude prices, the UK is struggling with lower inflation and weak business sentiment. An uptick in the employment situation may create optimism in the economy. However, a decrease in the unemployment rate in the UK may be more of an indicator of the tightening labor market due to nonavailability of a skilled workforce than of the growing employment opportunities in the economy.
Read our series, The Fall's Fall: September's Data Reinforces Pessimistic Outlook for more information on economic indicators.
For the latest updates on the economic front, please refer to our Global ETF Analysis page.