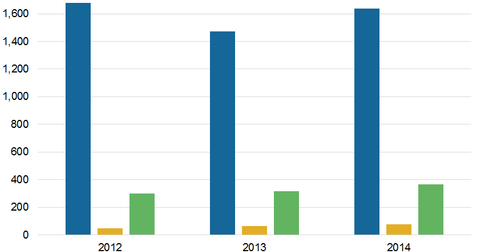 Con-way's Logistics Division
By Robert Karr

Oct. 14 2015, Updated 8:09 a.m. ET
Logistics division
Con-way's (CNW) Menlo Logistics develops contract logistics solutions. The division manages complex distribution networks and provides supply chain engineering and consulting as well as multimodal freight brokerage services. The logistics division contributed 28% of the company's total revenues and 10% of its total operating profits in 2014.
The division made total revenues and operating profits of $1.6 billion and $27 million, respectively. The division had total assets of $367 million in 2014 as compared to $302 million in 2012.
The term "supply chain" refers to a strategically designed process that directs the movement of materials and related information from the acquisition of raw materials to the delivery of products to the end user.
Article continues below advertisement
Management offerings
The division's supply chain management offerings relate to transportation management and contract warehousing services.
Transportation management deals with the management of asset-based carriers and third-party transportation providers for customers' inbound and outbound supply chain needs through the use of logistics management systems to consolidate, book, and track shipments.
Contract warehousing refers to the optimization and operation of warehouses for customers using technology and warehouse management systems to reduce inventory carrying costs and supply chain cycle times.
The company's division links these systems with its customers' internal enterprise resource planning systems so that it can provide its clients with improved visibility to their supply chains. The company charges in different forms such as cost-plus, transactional, fixed-dollar, performance-based, and consulting-fee arrangements.
The division also provides its services using a client or project-based approach when the supply chain solution requires customer-specific transportation management, single-client warehouses, or single-customer technological solutions.
The number of freight brokers has increased over the past few years, and the industry is focusing on cost reduction. Thus, it is competing on price offerings.
However, Con-way seeks to design logistics solutions for customers based on innovative solutions that use a structured continuous improvement program.