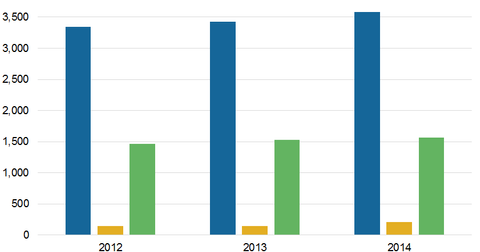 Con-way's Freight Division Is Quickly Expanding
By Robert Karr

Oct. 13 2015, Published 4:00 p.m. ET
Freight business unit
Con-way Freight is a less-than-truckload (or LTL) motor carrier. The segment provides LTL freight services throughout North America. Con-way utilizes a network of freight service centers to provide day-definite regional, inter-regional, and transcontinental LTL freight services.
The freight division contributed 62% of the company's total revenues and 78% of its total operating profits in 2014. The division made total revenues and operating profits of $3.6 billion and $210 million, respectively.
Con-way's (CNW) freight division has assets of $1.6 billion, forming 48% of the company's total assets. The company has regularly incurred capex (capital expenditures) to expand its coverage of regions and centers and invest in innovation and technology.
Article continues below advertisement
Targeting mid-sized businesses
Con-way's LTL carriers transport shipments from multiple shippers. The company's network of freight service centers and its fleet of linehaul and pickup and delivery tractors and trailers facilitate the pick up and consolidation of shipments at the originating service center.
Freight is then transported to its destination service center or another intermediate service center called a freight assembly center. From the destination service center, the freight is delivered to the customer. LTL shipments usually weigh between 100 and 15,000 pounds. In 2014, the company's freight average weight per shipment was approximately 1,350 pounds.
The LTL trucking environment is highly competitive. Principal competitors of Con-way Freight include regional and national LTL companies, some of which are subsidiaries of global, integrated transportation service providers. The company competes on service, innovation, freight rates, reliability, transit times, and scope of operations.
Con-way registered total revenues of $5.8 billion in 2014. In comparison, its peers reported the following revenues:
Together, these companies form 0.59% of the First Trust Mid Cap Core AlphaDEX Fund (FNX).