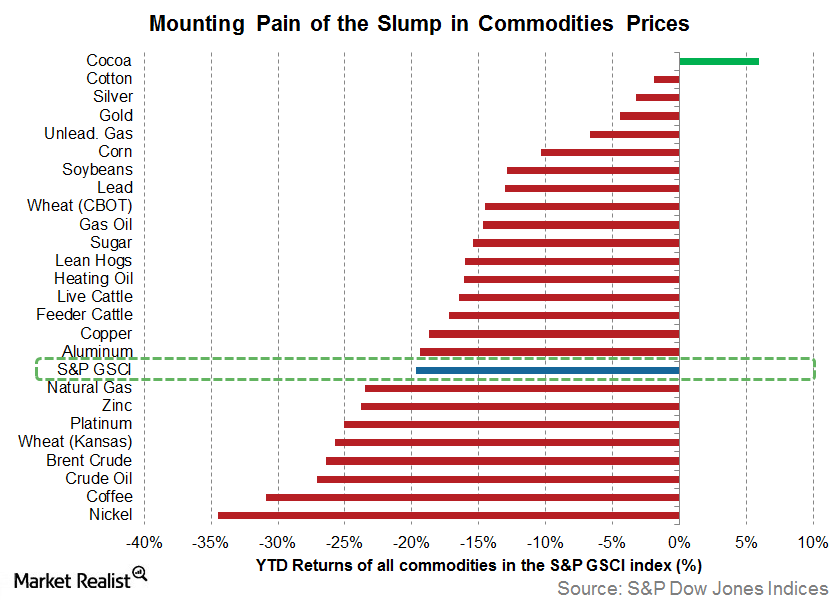 Commodities Slump: Have We Reached a Bottom?
By Russ Koesterich, CFA

Nov. 20 2020, Updated 1:02 p.m. ET
Though commodities have been the worst performing asset class of 2015, Russ explains why it's still too early to call a bottom.
Commodity prices have been heading lower for more than four years, and according to data accessible via Bloomberg, with the most severe losses in cyclical commodities, such as oil and industrial metals. Based on the Bloomberg Commodity Index, the commodity asset class is now down roughly 50 percent from its 2011 high.
It's no wonder, then, that many investors are asking me: Have commodity prices reached a bottom? My take: It's still probably too early to call a bottom. Commodities have been hurt by several, interrelated supply and demand trends, none of which appears to be going away anytime soon.
Market Realist – Commodities Slump: Why it may still be too early to call a bottom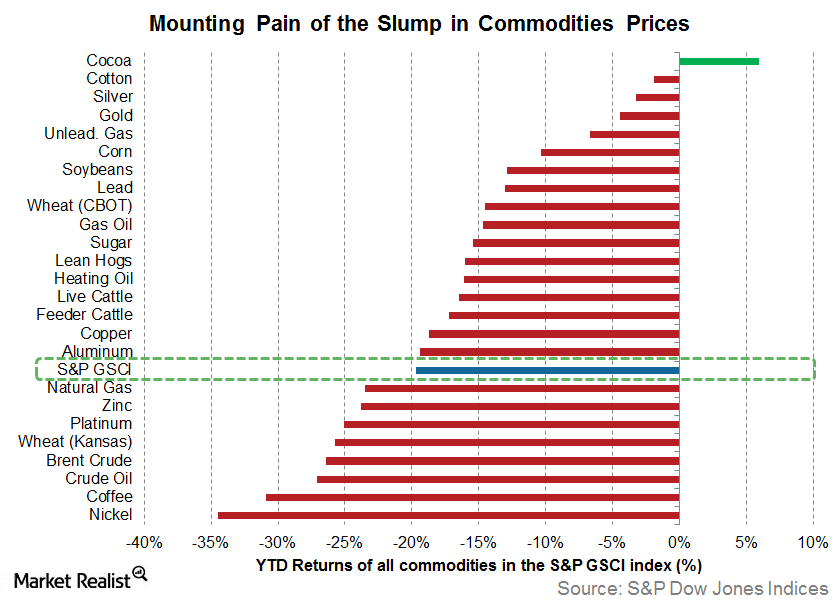 The talk about the commodities slump (USCI) is almost ubiquitous. It is hard to ignore the freefall most commodities (DBC) seem to have been in during the past year. The Bloomberg commodity index recently clocked in its worst quarterly decline in almost seven years. For the quarter ended September 30, 2015, the index was down ~15%.
The S&P Goldman Sachs Commodities Index (GSG) is now down ~20% year-to-date. All commodities, except cocoa, are deeply mired in the red. The year-to-date performance of all components of the S&P GSCI Index (GSC) can be seen in the above graph. Silver (SLV) and gold (IAU) (DGL) are down 3.2% and 4.4%, respectively. Crude oil (DBO), coffee (JO), and nickel have been the worst-performing commodity classes with YTD performances of -27.1%, -30.8%, and -34.5%, respectively.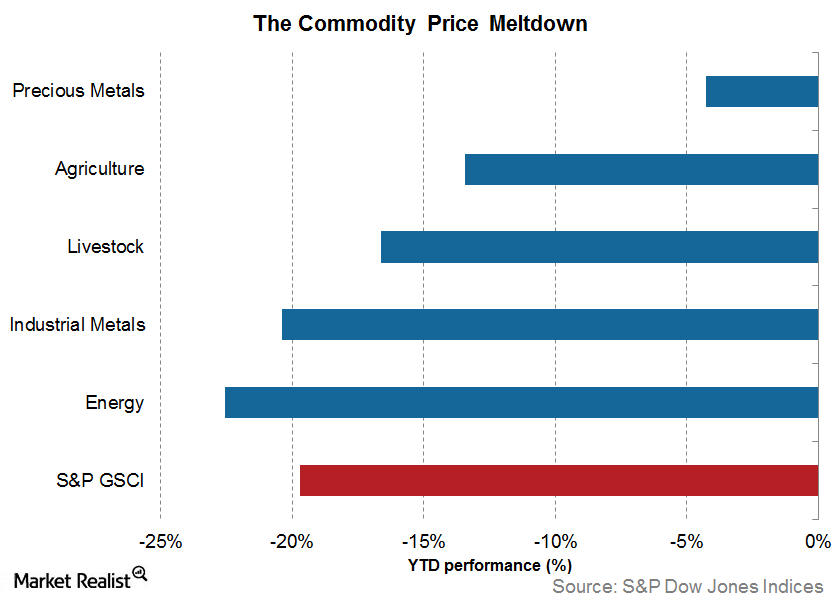 The previous graph shows the year-to-date performance of various GSCI commodity classes. Energy (VDE) (IYE) and industrial metals (DBB) have been the worst hit with performances of -22.6% and -20.4%, respectively.
Are we approaching a bottom? We don't think so. There are several indicators, including the demand-supply mismatch and the global growth outlook, that suggest that the commodities slump may persist for longer. In this series, we will be discussing these factors in greater detail.
Article continues below advertisement