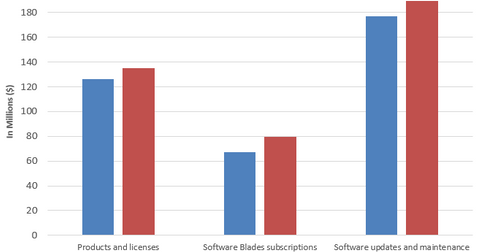 Check Point Software Added Mobile Security Products in 3Q15
By Parker Thomas

Updated
Mobile security market boosts CHKP revenue
Check Point Software (CHKP), a provider of industry-leading solutions for cyber security, announced its 3Q15 earnings on October 26, 2015. Check Point Software reported revenues of $403.9 million compared to $370.4 million in 3Q14, an increase of 9.0%.
During 3Q15, Check Point Software expanded its product line to add mobile security solutions for iOS- and Android-enabled devices. Its primary offering was the Mobile Threat Prevention product, which provides security from malware and other potential threats.
If we break down the revenue generated from the company's various segments, Products and Licenses stands at $135.2 million in 3Q15 compared to $126 million in 3Q14. Revenue generated from the Software Blades Subscription segment increased by 18.6%.
The Software Updates and Maintenance segment generated $189.0 million in 3Q15 compared to $177.1 million in 3Q14, an increase of 6.7%.
Article continues below advertisement
Cost efficiency
Check Point Software (CHKP) remained cost-efficient during the third quarter. The total cost incurred while generating revenue stood at $47.4 million in 3Q15 compared to $44.7 million in 3Q14, which led to a 0.34% decrease in its cost margin.
A major contribution came from the Products and Licenses segment, which showed a 1.1% decline in the cost margin. The company's gross margin was 88.26% in 3Q15, compared to a gross margin of 87.92% in 3Q14, a marginal increase of 0.34%.
New products and services
Among Check Point Software's recent products is SandBlast Zero-Day Protection, an advanced-level security protection product. By identifying the usage level of the CPU, it detects an infection at the initial stage and reduces the risk of potential breaches.
Check Point Software (CHKP) also released VMware NSX, a cloud security product that provides comprehensive solutions for the private cloud. It enables the customer to strengthen the security level in a virtualized data center by encrypting the data flow stream.
The ISE Cyber Security ETF (HACK) is a portfolio of 32 stocks. Juniper Networks (JNPR), Fortinet (FTNT), and Cisco Systems (CSCO) constitute 4.11%, 4.98%, and 4.30% respectively, of HACK.