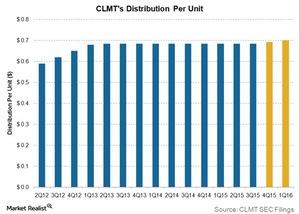 Why Calumet Specialty Products Partners' Distributions Are Flat
By Rekha Khandelwal, CFA

Nov. 4 2015, Updated 8:08 a.m. ET
Calumet's distributions
On October 23, 2015, Calumet Specialty Products Partners (CLMT) declared a quarterly distribution of $0.69 per unit. This is the ninth-consecutive quarter with no increase in Calumet's distributions.
The graph above shows Calumet Specialty Products Partners' quarterly per-unit distributions. It also shows the consensus per-unit distribution estimates for 4Q15 and 1Q16.
Article continues below advertisement
Calumet Specialty's distribution coverage
Calumet Specialty Products Partners' distribution coverage for 2Q15 was 1.3x. The ratio was 1.4x in 3Q14. The ratio has improved significantly in the last four quarters compared to previous quarters. Calumet's coverage ratios for 2014 and 2013 were 0.7x and 0.1x, respectively.
Calumet's 2013 results were impacted by planned maintenance turnarounds at its Superior and Montana refineries. Calumet's next plant-wide turnarounds at its Superior, Montana, and San Antonio refineries are scheduled for 2018.
An MLP's distribution coverage is the ratio of its distributable cash flow to its total distributions. A ratio of below 1.0x is considered risky, as it shows that the MLP is distributing more cash than it is generating. This can't continue in the long run.
Calumet's low distribution coverage was the reason behind its flat distributions over nine quarters. With its coverage now improving, the MLP may increase distributions going forward, in-line with analyst expectations, as shown in the chart above.
Calumet Specialty Products Partners targets a distribution coverage ratio of 1.2x–1.5x over the long term. Its ratio for 2Q15 fell within the target range.
Distributions of Calumet's peers
Refining MLPs CVR Refining (CVRR), Alon USA Partners (ALDW), and Northern Tier Energy (NTI) have variable distribution policies. These MLPs don't have a minimum quarterly distribution. Instead, their quarterly distributions vary depending on the cash generated in each quarter.
The quarterly distributions of these MLPs thus vary significantly.The variable distribution policy results in distribution coverage ratios that are close to 1x for CVR Refining, Alon USA Partners, and Northern Tier Energy. CVR Refining forms ~0.4% of the Guggenheim Mid-Cap Core ETF (CZA).