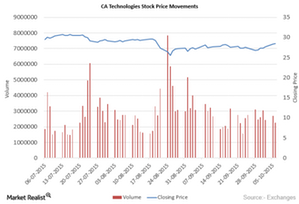 CA Technologies Study: Widespread Use of Digital Transformation
By Parker Thomas

Oct. 13 2015, Published 8:36 a.m. ET
Organizations are becoming technology-driven
On October 6, 2015, CA Technologies announced the results of a global survey on the role of software as a business enabler. The survey found that companies are using modern technology resources to transform important aspects of their businesses into digital ones. This, in turn, drives ROI (return on investment).
Modern technology has brought a revolution to the current economy that's forcing businesses to accelerate digital transformation in order to stay ahead of their competitors.
Article continues below advertisement
Every key aspect of business is interconnected
The survey found that businesses are synchronizing or interconnecting every aspect of their businesses by using technology for sales and marketing, customer service, and product or service development. The survey found that 55% of businesses have digitally transformed their companies, and the rest are in the process.
The survey also showed that of those companies that have taken the initiative to transform their businesses digitally, 45% of them have already seen an increase in customer retention and acquisition, and 44% of them have seen an increase in revenue.
Prioritizing and managing the project portfolio has become one of the top challenges for any IT (information technology) department. Making decisions is difficult when there are time and budget constraints from various departments of the business. The dilemma many companies face is knowing which projects should receive more funding and resources to get the maximum ROI.
Digital disrupters recognize these issues and suggest ways a company can estimate and prioritize investments. One of the big advantages of digital disruptors is that stakeholders from both business and IT can look at the project pipeline, activity schedule, and associated metrics when making decisions.
The First Trust ISE Cloud Computing ETF (SKYY) has a portfolio of 36 stocks. The top four stocks are Amazon (AMZN), Netflix (NFLX), Facebook (FB), and Google (GOOG), which make up 5.0%, 4.5%, 4.5%, and 4.5%, respectively, of SKYY's portfolio.