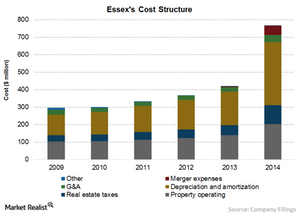 Breakdown of Essex Property Trust's Cost Structure
By Peter Barnes

Updated
Cost structure
The consolidated cost of Essex Property Trust (ESS) was $767.8 million for fiscal 2014, up by 82.6% over 2013. This came on the back of a 14.2% rise in total cost in 2013. The sharp rise in 2014's costs was mainly due to the acquisition of properties in connection with BRE Properties merger.
Depreciation and amortization comprised 47% of the total cost in 2014, followed by property operating expenses at 26.4%, then real estate taxes at 14%. G&A (General and Administrative) expenses comprised 5.3% of the total cost.
Article continues below advertisement
Cost components
Property operating expenses increased by 46.3% to $203 million in 2014 mainly due to properties acquired in the merger with BRE Properties and six other communities. Real estate taxes increased by 88.3% to $107.9 million in 2014 over 2013. The rise in real estate taxes was also due to the acquisition of BRE Properties and other communities. The other reason for the rise in property taxes in 2014 was a 15.6% increase in property taxes for the Seattle metro area due to higher assessed values.
Depreciation and amortization expenses increased by 87.4% to $360.6 million in 2014. The increase in depreciation was due to the capitalization of $313.1 million in additions to rental properties through 2014. G&A expenses increased by 53.2% to $40.9 million in 2014 over 2013 mainly due to additional employees from the BRE Properties merger.
EBITDA margin fell in 2014
Essex Property Trust recorded an EBITDA[1. earnings before interest, taxes, depreciation, and
amortization] margin of 58% in 2014 compared to 64.7% in the previous year. The decline in the EBITDA margin in 2014 was due to the BRE Properties merger. The company's EBITDA margin peaked at 64.9% in 2012 but was lower than some of its major competitors' EBITDA margins in 2014. For example, Equity Residential (EQR) reported an EBITDA margin of 64.4%, followed by AvalonBay Communities (AVB) with 63.6%, then UDR (UDR) with 60%. The industry average EBITDA margin was 57.7% in 2014. However, Essex Property Trust's EBITDA margin improved to 62.7% as of June 2015. The iShares Cohen & Steers REIT ETF (ICF) invests 3.7% of its portfolio in Essex Property Trust.
In the next article, we'll discuss Essex Property Trust's funds from operations.