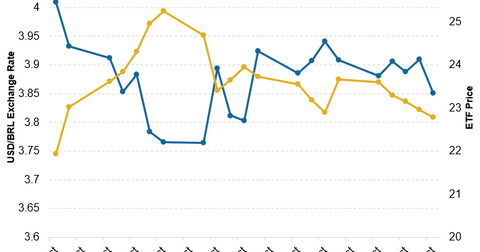 Brazilian Real Rose Due to Speculation over the PTAX Rate
By David Meyer

Oct. 30 2015, Published 8:59 a.m. ET
Brazilian real rose 1.5%
The US dollar to Brazilian real currency pair is inversely related to the Brazilian real. It posted losses of 1.5% on October 29, 2015. The pair was the best performing currency for the day among the major emerging market currencies. The pair fell to a low of 3.845 before ending days trade at 3.851. The rise was amid speculation that the banks are pushing down the PTAX rate. This is the currency reference rate set by the central bank on every business day after collecting data from market players.
Article continues below advertisement
Brazilian central bank's comments
On October 29, 2015, the Brazilian central bank said that its will remain vigilant. This suggests that it doesn't rule out an interest rate hike. Among domestic data for the day, the federal tax revenue rose to 95.2 billion real. This was was above the forecasts. The government budget balance for September was also published on Thursday at a deficit of 77.3 billion real. The day gave a needed boost for the real. It's among the worst performing currencies after the S&P reduced the country rating to "junk" in the last month. For more details on the rating downgrade, read Brazilian Real Falls after Credit Rating Downgrade.
Impact on the market
The ETFs related to Brazil were also showing signs of negativity on October 29, 2015. The iShares MSCI Brazil Capped ETF (EWZ) fell by 0.78%. The iShares Latin America 40 ETF (ILF) fell by 0.76%.
Among the Brazilian ADRs (American depositary receipts), Petroleo Brasileiro Petrobras (PBR) rose 0.63%. Mining-related companies consider the appreciation in the currency to be negative because they're involved in exporting commodities. Vale (VALE) and Gerdau (GGB) fell by 1.2% and 0.71%, respectively.