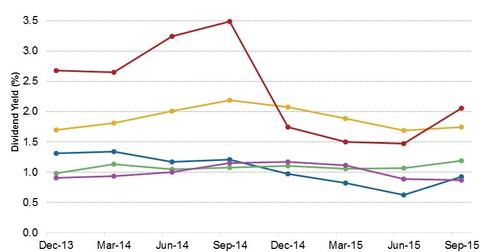 Analyzing Coty's Dividend History and Shareholder Payouts
By Penny Morgan

Updated
Cash dividends
Coty, Inc. (COTY) intends payment of annual cash dividends on Class A common stock and Class B common stock in the second quarter of each year. During 1Q15,[1. Quarter ended September 30, 2015] the company declared a cash dividend of $0.20 per share, or ~$71.9 million, on Class A and Class B common stock.
Article continues below advertisement
Dividend payout versus peers
Coty's dividend payout for the trailing 12 months came in at 30.9%. In comparison, the dividend payout ratio for peers Estée Lauder (EL), L'Oréal (LRLCY), and Procter & Gamble (PG) came in at 32.2%, 54.1%, and 85.1%, respectively. Coty's dividend payout was lower compared to its peers because the company retains cash to finance growth in it core product categories and expand its distribution channels.
The company's free cash flow (or FCF) for fiscal 2015 totaled ~$0.4 billion. Estée Lauder's FCF came in at $1.5 billion in fiscal 2015, and L'Oréal's FCF was $2.9 billion in fiscal 2014.[2. Fiscal year end for Estée Lauder is June 30, 2015, while for L'Oréal it is December 31, 2014]
Preferred shares
As of June 30, 2015, Coty's total authorized shares of preferred stock were 20.0 million, and its total outstanding shares of Series A preferred stock were 1.9 million.
Share repurchase program
Coty also has a share repurchase program in which the company buys back its own shares from the marketplace, reducing the number of outstanding shares. In connection with the program, the company purchased 13.4 million and 6.6 million shares of its own stock during the year end June 30, 2015, and 2014, respectively. These shares were repurchased at prices ranging from $18.64–$21.99 and $14.64–$15.69 per share during the years ended June 30, 2015, and 2014, respectively.
Coty has exposure in the WisdomTree SmallCap Dividend ETF (DES) with 0.2%[2. Updated as of October 6, 2015] of the total weight of the portfolio.