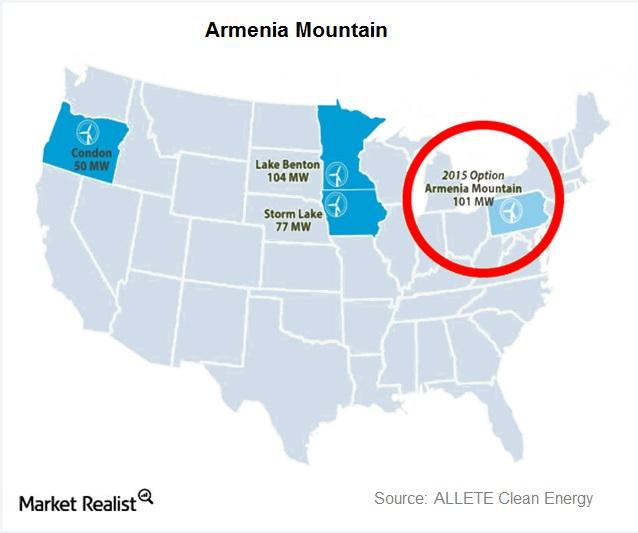 ALLETE: The Company That Bought AES Corporation's Wind Farm
By Pearl Adams

Oct. 15 2015, Updated 4:42 p.m. ET
Sale of Pennsylvania wind facility
In July 2015, AES Corporation (AES) successfully sold the 100.5 MW (megawatt) wind farm located in Troy, Pennsylvania, to ACE (ALLETE Clean Energy), a wholly owned subsidiary of ALLETE (ALE). The facility is called Armenia Mountain.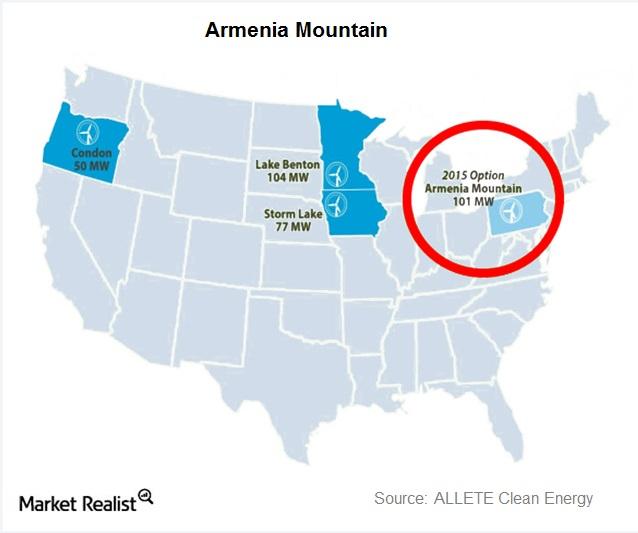 ACE exercised its option to purchase the facility on April 1, 2015. ACE acquired 100% stake in AES Armenia Mountain Wind for a consideration of $108 million from AES Corporation and a minority shareholder. The purchase agreement for this transaction was signed on April 30, 2015. Morgan Stanley (MS) was the financial adviser for this transaction.
Article continues below advertisement
Armenia Mountain is part of the PJM Interconnection energy market, and is located near the New York-Pennsylvania border. The facility was constructed in 2009 and has 67 wind turbines producing 1.5 MW each. The facility sells the electricity generated through various power purchase agreements, which are in place for another ten years, until 2025.
About ALLETE
ALLETE Clean Energy is an energy company headquartered in Duluth, Minnesota. Its holding company, ALLETE, owns utilities (XLU) such as Minnesota Power and Superior Water, Light and Power, located in Wisconsin. Additionally, ALLETE owns BNI Coal in Center, North Dakota, U.S. Water Services in St. Michael, Minnesota, and an 8% equity stake in the American Transmission Company. In November 2014, ALLETE Clean Energy signed a development agreement with MDU Resources Group (MDU) to acquire rights to develop and construct a 107 MW wind facility near Hettinger, North Dakota, and sell it for about $200 million to MDU Resources' Montana-Dakota, a utility company.