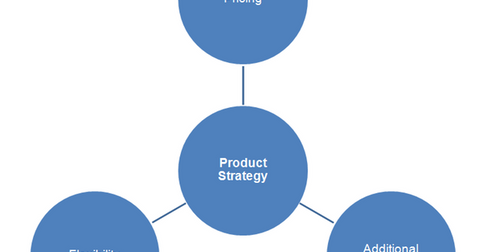 Alkermes's Multi-Pronged Strategy for Its Aristada Launch
By Margaret Patrick

Updated
Launch strategy
Alkermes (ALKS) has adopted a multi-pronged strategy for the successful launch of its schizophrenia drug Aristada (Aripiprazole Lauroxil). This strategy involves flexibility in the usage of the drug, effective pricing, and additional research activities to support further label expansions for Aristada.
Article continues below advertisement
Flexibility
The FDA has approved Aristada as a once-monthly injectable drug available at three dosage strengths—441 mg, 662 mg, and 882 mg. Physicians also have the option to choose either the deltoid or the gluteal muscle for the injection of the drug. Additionally, as Aristada need not be refrigerated, it can be effectively used in challenging healthcare setups such as community mental health centers.
This high degree of flexibility—in addition to the drug's pricing equivalent to other competitor drugs like theOtsuka/Lundbeck Alliance's Abilify Maintena, Novartis AG's (NVS) Clozaril, Merck's (MRK) Saphris, and Johnson & Johnson's (JNJ) Invega Sustenna (through its subsidiary Janssen Pharmaceuticals)—is expected to be a driving factor in Aristada's commercial success in the US market.
Alkermes also aims to target group of physicians that have histories of prescribing LAI (long-acting injectable) atypical antipsychotics to schizophrenia patients in hospitals and community mental health centers.
Pricing
Aristada is expected to be priced at levels comparable to other LAI drugs for schizophrenia patients. Health insurance companies should benefit by offering coverage of Aristada because the drug has added flexibility, three effective dosage strengths, and approval for six-week dose intervals at the 882 mg level.  Since drugs are priced on per milligram basis, lower dosage strengths and higher dosing intervals can translate into substantial savings for health insurers—which can, in turn, result in greater access to the drug.
Additional research
Alkermes is currently involved in clinical research to expand Aristada's label as an injection to be delivered once every two months. The company will also be implementing other clinical studies to expand the drug's geographical markets outside US.
You can get exposure to Alkermes's unique launch strategy for Aristada while avoiding excessive company-specific risks by investing in the First Trust NYSE Arca Biotech ETF (FBT). Alkermes accounts for 3.68% of FBT's total holdings.
Read the next and final part of this series for a look at the market's response to the FDA's approval of Alkermes's Aristada.
Correction: This post originally claimed that Abilify Maintena belonged to Bristol-Myers Squibb. We have since revised to indicate that it belongs to the Otsuka/Lundbeck Alliance. We regret this error.