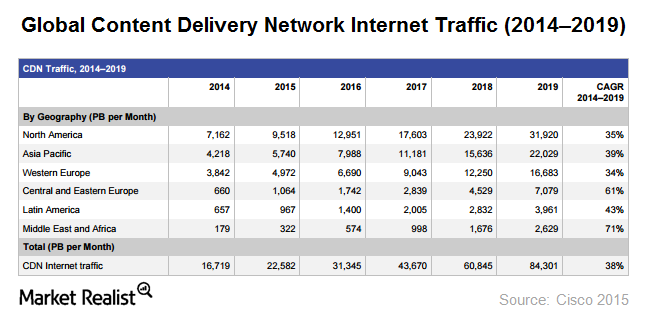 Akamai's Performance and Content Delivery Network Trends
By Anne Shields

Nov. 20 2020, Updated 4:26 p.m. ET
Increased trend of owning CDNs could affect Akamai's growth
Previously in this series, we discussed Akamai's (AKAM) earnings results in fiscal 3Q15. We also discussed its partnership with Microsoft, which is expected to complement both companies' positions in the technology space.
Microsoft's interest in partnering with Akamai points to an increasing affinity to own CDNs (content delivery networks) in the technology industry. A CDN is a network of servers in a data center that facilitates the provision of Internet content from a website to an end user. Due to the huge scale involved as well as the speed at which such information needs to be delivered, technology and services companies had relied on Akamai, or similar companies with expertise in issues like having enough fiber, IP transit, wavelengths, and other infrastructure integral to a successful CDN.
Article continues below advertisement
However with SMAC (social, mobile, analytics, and cloud), data is growing exponentially. Data needs are increasing manifold with more and more users preferring certain platforms. As a result, companies like Netflix (NFLX), Apple (AAPL), and Microsoft (MSFT) set out to deliver their own networks' content.

According to Cisco and as the above chart shows, globally, 62% of all Internet traffic will cross a CDN by 2019, compared to 39% in 2014. Moreover, CDN Internet traffic is expected to grow at a compound annual growth rate of 38% in 2014–2019.
Entry of leading tech companies will hamper Akamai's growth in CDN space
In 2014, Apple (AAPL) announced its own CDN with the rollout of iOS 8. This has become a concern for Akamai's growth. Level 3 Communications (LVLT) and Verizon (VZ) are also posing serious competition to Akamai with their entries into the CDN space.
Owing to Apple and Netflix developing their own CDN services, Akamai cut its revenue expectations for fiscal 4Q15. Apple and Netflix are its major media customers in the United States, as we discussed previously in this series. The entry of established technology players not only increases competition but also enhances the pricing pressure on Akamai. For 3Q15, the company reported net income of $88.0 million, compared to $91.2 million in fiscal 3Q14.
You can invest in the SPDR S&P 500 ETF (SPY) to get diversified exposure to Akamai. SPY invests approximately ~0.08% of its holdings in Akamai.