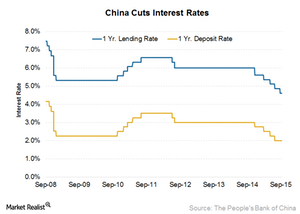 Will China's Monetary Easing Impact Iron Ore Miners Favorably?
China's easing measures
In a fifth rate cut since November 2014, China once again reduced the interest rate by 25 basis points to 4.6% on August 25. According to the People's Bank of China (or PBOC), the interest rate cut is to reduce "the social cost of financing to promote and support the sustainable and healthy developments of the real economy."
China's central bank also reduced the reserve requirement by 50 basis points. These are the reserves that banks are required to keep in cash. Reducing the requirement would free up more cash for lending. According to some estimates, this would be equivalent to adding 678 billion yuan to the Chinese economy.
Article continues below advertisement
These moves were prompted by the ~20% fall in Chinese stock markets in four consecutive trading days in August. There was also a cut of 300 basis points for finance leasing companies and auto finance companies effective September 6. According to PBOC, while rate cuts were aimed at reducing borrowing costs for Chinese companies, the cut in reserves requirements was to maintain liquidity in the financial system.
China has a target growth rate of 7% for the economy for 2015. This would be the slowest pace of economic growth in the last 25 years. But in the face of the current faltering demand fundamentals, government is struggling to even achieve this rate of growth.
Investment impact
Chinese credit easing and other sustainable measures should positively impact the steel industry. This will help iron ore companies like Rio Tinto (RIO), BHP Billiton (BHP) (BLT), Vale (VALE), and Cliffs Natural Resources (CLF).
It will also affect funds investing in the iShares MSCI Global Metals & Mining Producers ETF (PICK) and the SPDR S&P Metals and Mining ETF (XME). BHP Billiton and Vale account for 22% of PICK's holdings. Cliffs Natural Resources forms 3.8% of XME's holdings.