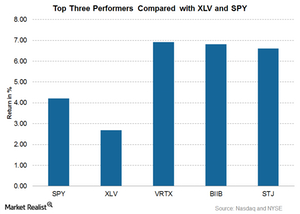 Vertex and Biogen Outperformd XLV and SPY
By Peter Neil

Sep. 11 2015, Published 12:26 p.m. ET
XLV remains positive
The global market continued to be volatile on woes of the economic slowdown in China. In response to the slump, the Chinese government cut the interest rate by 25 basis points and reduced the reserve requirement by 50 basis points. The move brought markets back into the green.
Elsewhere, the US Fed is still mulling about the interest rate hike in September 2015. During the week, the stock market rebounded and biotechnology stocks also moved up. The Health Care Select Sector SPDR ETF (XLV) moved up by 2.68%, as 49 of its 55 stocks were trading positive. However, the broader market SPDR S&P 500 ETF (SPY) outperformed XLV with a return of 4.22% between August 25 to August 31, 2015.
The above graph reflects the performance of XLV, SPY, and the top three best performers in the XLV portfolio.
Article continues below advertisement
Vertex and Biogen outperform
Vertex Pharmaceuticals (VRTX) was the top performer in XLV with a return of 6.92%. The stock closed at $127.52 on August 31. The stock went up on good volumes and rebounded from its oversold situation.
After falling to a closing price of $278.35 on August 24 as a result of a global sell-off, Biogen (BIIB) also rebounded on good trading volumes. The stock returned 6.81% and moved away from the oversold position. As of August 31, 2015, the stock closed at $297.30 and was trading above the lower Bollinger price of $282.
St. Jude Medical (STJ) moved up by 6.61% to $70.81 as of August 31, 2015. The stock went up on positive results from its five-year FAME trial (fractional flow reserve versus angiography in multivessel evaluation) and confirmed the long-term benefits of fractional flow reserve in guiding percutaneous coronary intervention over angiography. However, the stock is still trading close to its lower Bollinger price of $68.
On the other hand, Patterson Companies (PDCO) went down by 4.10%. The company announced its fiscal first quarter ended August 1, 2015. It reported a GAAP (generally accepted accounting principles) net income of $20.3 million as compared to $38.3 million in the first quarter of the last fiscal year, though the company reported sales of $1.1 billion, up 22% over the corresponding period last year. The company also announced the completion of the sale of its medical business to Madison Dearborn Partners.