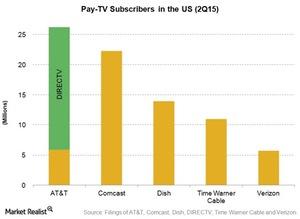 Verizon's Performance as Pay-TV Provider in 2Q15
By Ray Sheffer

Updated
Overview: Verizon on industry challenges
Earlier in this series, we learned about how Verizon (VZ) is tackling the challenges in pay-TV. Strategies include offering skinny bundles through the company's Custom TV and focusing on high-speed wireline Internet offerings. We also learned that Verizon may boost its FiOS Internet speeds to 1 Gbps (gigabits per second). Large US Internet service providers such as AT&T (T) and Comcast (CMCSA) already have some gigabit-per-second offerings in place.
Article continues below advertisement
During the Goldman Sachs Communacopia Conference held September 17, 2015, Lowell McAdam, Verizon's CEO (chief executive officer) and chairman highlighted the importance of proactively addressing pay-TV industry challenges. In regards to Verizon's positioning in the US pay-TV market, Lowell said, "Well, okay being top-five you can view it as a good thing or a not so good thing and our view is that if you don't disrupt yourself somebody else is going to come in and disrupt you."
Largest US pay-TV providers in 2Q15
Now we'll look at the biggest US (SPY) pay-TV providers. AT&T together with DirecTV (DTV) had the largest pay-TV subscriber base in 2Q15. It was followed by Comcast, the largest cable provider in the United States. Dish Network (DISH) and Time Warner Cable (TWC) followed Comcast. By subscribers, Verizon had the smallest share of the US pay-TV industry among these players in 2Q15.
Cable companies have traditionally dominated the US pay-TV industry. According to the NCTA's (National Cable & Telecommunications Association) analysis of SNL Kagan data, cable had the highest share of ~53% in the US pay-TV space in 2014. Satellite TV providers had the second largest share of ~34% and telecom companies had the smallest share of ~13% during 2014.