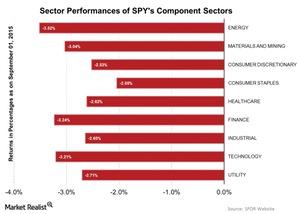 US Market Goes into the Red on China's Weak Manufacturing Data
By Renee Blakely

Updated
Is there more to panic over as China's August PMI data comes in?
The graph below shows the sectoral performance of the US market on September 1.
The energy sector, which was rallying over the surge in oil prices, suddenly got hit by China's report on the state of its manufacturing. China registered a PMI (purchasing managers' index) of 47.3 in August. PMI is a composite indicator that provides a brief of the operating conditions in a manufacturing economy. The value of the PMI at 50 is neutral. Any further fall in the value signals deterioration in operating conditions. China has posted a PMI below 50 for six consecutive months, which is an acute concern for not only China but also the entire world.
Article continues below advertisement
How the world stands to be affected by the China PMI data
Presently, the Asian economies are the driving force for the world's economy. China is the largest emerging market as well as the world's second-largest economy. Its economy is manufacturing-intensive and also largely export-driven. A decline in its PMI indicates a reduction in production levels, which hampers both imports and exports.
A fall in China's production levels results in lower imports of raw materials from countries like Australia and Brazil. Lower demand for inputs, especially commodities, calls for a fall in commodity prices, which again affects the businesses of commodity firms exporting to China. There's also the likelihood of a fall in the imports of machinery and automobiles from Germany to the country. China has also lowered the import of oil and metals. China is the largest consumer of energy and metals, so this move resulted in a fall in stock prices for the above sectors across all equity markets.
On the other hands, lower production implies a fall in exports, which again adds to China's troublesome condition, where recovery seems to be far-fetched, given the existing conditions.
Shares of companies like Apple (AAPL) fell by 4.47% on September 1. Metals and mining stocks Freeport-McMoRan (FCX), Joy Global (JOY) fell by -8.18% and -7.93%, respectively. Joy is into mining and construction equipment manufacturing. With the fall in metal requirements, there's a fall in sales of mining and construction equipment.
Energy sector stocks Murphy Oil (MUR), Noble Energy (NBL), Denbury Resources (DNR), and QEP Resources (QEP) changed by -7.87%, -6.88%, 15.09%, and -7.05% on September 1, respectively.
Let's look at the response of the UK market on the day.