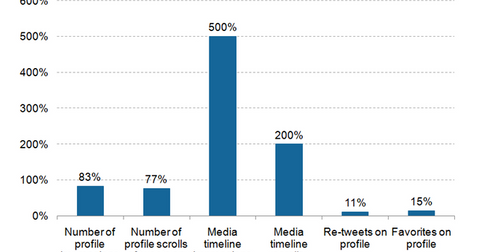 Twitter Lifts 140-Character Limit from Direct Messages
By Matilda James

Updated
Limit extends to 10,000 characters
Twitter (TWTR) recently announced the removal of its 140-character limit from its direct messages. Users can now send messages that are 10,000 characters long.
The objective is to make the platform user friendly and easier to access and navigate. The lift of the 140-character limit is currently only applicable to direct messages and doesn't apply to public tweets.
Twitter faces fierce competition from popular messaging apps (applications) such as Facebook's (FB) WhatsApp and Snapchat. As it struggles with sluggish growth in active users, the company is taking measures to attract new users.
Article continues below advertisement
Over the last couple of months, the company has been working toward organizing its content for users by categorizing tweets into popular categories of live events, celebrities, and more. Twitter intends to do this with its new product, Project Lightning. It will organize tweets, videos, and pictures of live events such as the NBA (National Basketball Association) Finals and the Oscars.
Changes to profile pages to engage logged-off users
Twitter has changed its user profile page in order to engage logged-off users. The changes included larger photos and more tools to highlight tweets, resulting in an increase in several metrics, as you can see in the above graph.
Chris Sacca, a well-known Twitter investor, pointed to live events as Twitter's bright spot. He also mentioned that Twitter currently lacks the tools to help users pull up relevant information regarding a live event and thus target the right accounts.
Facebook (FB) is also venturing into the live events space with its FB Newswire, powered by Storyful. Apple (AAPL), Snapchat, and LinkedIn (LNKD) are hiring actual human beings to edit and organize content, with Snapchat hiring journalists to edit content relative to the upcoming US elections.
Snapchat has emerged as the third-highest-valued startup after taxi-booking app (application) Uber Technologies and Chinese (FXI) smartphone company Xiaomi.