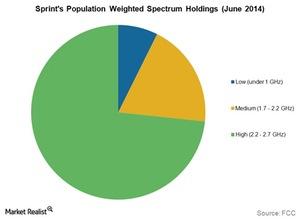 Sprint's Initiatives to Improve Network Speed and Performance
By Ray Sheffer

Updated
Harnessing capacity spectrums
Previously in this series, we saw that Sprint Corporation (S) continued to have the lowest position among the top four US wireless carriers in the network speed category, based on the RootMetrics Mobile Network Performance in the US report for 1H15. The other the top four US networks are Verizon Communications (VZ), AT&T (T), and T-Mobile (TMUS). We also observed that Sprint's data performance rating during 1H15 remained relatively the same.
Now let's look at what Sprint is doing to improve its network speed and data performance—specifically its significant effort to harness its 2.5 GHz (gigahertz) capacity spectrum.
As the above chart shows, Sprint's holdings as of June 2014 were predominantly in the high-band spectrum, which is characterized by its capability to cater to high network traffic, though in smaller areas relative to the other bands.
The high-band spectrum is particularly useful in urban areas with significant traffic, where wireless telecom companies have to cater to high numbers of smartphones—for example, Apple's (AAPL) iPhone and Google's (GOOG) (GOOGL) Android—which require relatively high amounts of data.
Article continues below advertisement
Densifying and boosting network infrastructure
According to John Saw, Sprint's Chief Technology Officer, "A key strategy for improving our network is to densify and increase our number of cell sites across our 2.5GHz, 1.9GHz and 800MHz spectrum bands. This will include adding thousands of new macro sites to expand coverage, and it will include a continued expansion of our 2.5 GHz LTE footprint."
According to Sprint, these densification efforts also include significant small cell deployment. Sprint is also deploying carrier aggregation in select US markets in an attempt to boost network speeds while using its spectrum holdings more efficiently. These select markets include Houston, Detroit, Chicago, Atlanta, and San Francisco.
Instead of investing directly in Sprint's stock, you may take a diversified exposure to the company by investing in the iShares Dow Jones US Telecom ETF (IYZ), which held ~3.3% in Sprint as of July 31, 2015. Alternatively, you may take an extremely diversified exposure to the company by investing in the iShares Russell 1000 Value ETF (IWD), which held ~0.02% in Sprint on July 31.