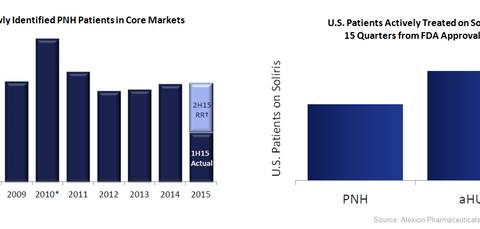 Soliris Is Treating Major Rare Diseases around the World
By Margaret Patrick

Sep. 25 2015, Updated 9:08 a.m. ET
PNH and aHUS
Alexion Pharmaceuticals' (ALXN) Soliris was first approved for paroxysmal nocturnal hemoglobinuria (or PNH) in 2007 and atypical haemolytic uremic syndrome (or aHUS) in 2011.

The above diagram shows that Alexion Pharmaceuticals has consistently identified new patients suffering with PNH. The company also claims that the majority of PNH patients in the world are yet to be diagnosed and thus expects a substantially high PNH market potential for Soliris. Patients treated for aHUS in the US exceeded PNH patients and the trend has also been witnessed in Europe for the past three years. With incidence or newly diagnosed aHUS patients being higher than PNH patients, the former market opportunity is expected to be larger than the latter one.
Article continues below advertisement
PNH
Soliris has proved successful in treating PNH. Before the use of Soliris, approximately 35% of patients died within five years of a PNH diagnosis. In clinical trials, Alexion Pharmaceuticals proved that there was a 100% response rate to Soliris. Post approval of Soliris in 2007, the follow-up data has displayed a five-year survival rate of about 98% in the first five years of diagnosis.
aHUS
Atypical hemolytic uremic syndrome (or aHUS) is a very rare disease involving hemolytic anemia and acute renal failure. Before the approval of Soliris for aHUS, 50% of the patients would die within a year of diagnosis due to kidney failure, which required dialysis or renal damage. In the case of Soliris, clinical trials have again proved a 100% response rate measured across certain haematological and renal parameters.
In January 2015, Soliris was also approved in the United Kingdom for treating aHUS patients. The National Institute for Health and Care Excellence (or NICE) has also backed the use of Soliris for aHUS patients.
High efficacy coupled with low competition for the drug due to its orphan drug designation (or ODD) and subsequent market exclusivity of seven years has thus helped the drug to be a blockbuster therapy. Other drugs with ODD such as Amgen's (AMGN) Blinatumomab, Gilead Sciences' (GILD) Zydelig, and Celgene's (CELG) GED-0301 are also expected to be major commercial successes for their respective companies.
You can get exposure to Alexion Pharmaceuticals' first and only PNH and aHUS drug and limit your overall risks by investing in the iShares Nasdaq Biotechnology ETF (IBB). Alexion accounts for 5.07% of IBB's total holdings.