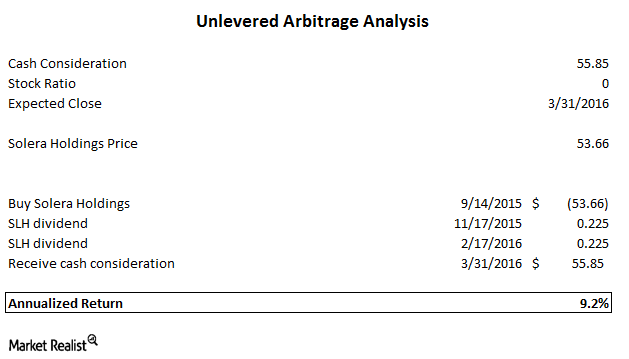 Solera Holdings Lands a Private Equity Consortium Deal
By Brent Nyitray, CFA, MBA

Sep. 18 2015, Published 4:36 p.m. ET
Merger spread analysis
In this series, we'll look at the recent Solera Holdings (SLH) transaction. But first let's clear up how merger arbitrage works.
In merger arbitrage, an investor will generally buy the stock of the company being acquired and wait for the deal to close. When the deal is completed, the investor will exchange the stock of the company being acquired for the cash consideration.
Article continues below advertisement
Always consider the buyer
When conducting merger arbitrage, it's important to keep in mind that there are generally two types of buyers—strategic and financial. A strategic buyer is typically a competitor, or perhaps a customer, or a supplier. A financial buyer is usually a private equity firm, although sometimes pension funds or hedge funds are active in such deals.
The Solera merger is a private equity deal. Private equity deals are, in general, riskier transactions than strategic deals. In a strategic transaction, companies often have synergies and other competitive advantages that make the deal worthwhile.
Private equity buyers care about cash flow, exit multiples, and financing. When the financial markets experience a hiccup, private equity spreads are the first to blow out. In this case, the buyer is a consortium of private equity buyers:
Vista Equity Partners
Koch Industries
Goldman Sachs
Consortia like this allow private equity buyers to be able to purchase bigger targets than they otherwise would.
Finally, private equity deals rely on cheap financing to work. If the financial markets hiccup, interest rates start increasing, or else the equity markets tank, and then private equity buyers are going to be looking for a way out of the deal.
Merger arbitrage resources
Other important merger spreads include the deal between Baker Hughes (BHI) and Halliburton (HAL) and the merger between Freescale Semiconductor (FSL) and NXP Semiconductor (NXPI). For a primer on risk arbitrage investing, read the series Merger Arbitrage Must-Knows: A Key Guide for Investors.
Investors interested in trading in the technology sector should look at the S&P SPDR Tech ETF (XLK).
In the next part of this series, we'll look at the basics of the recent Solera Holdings transaction.