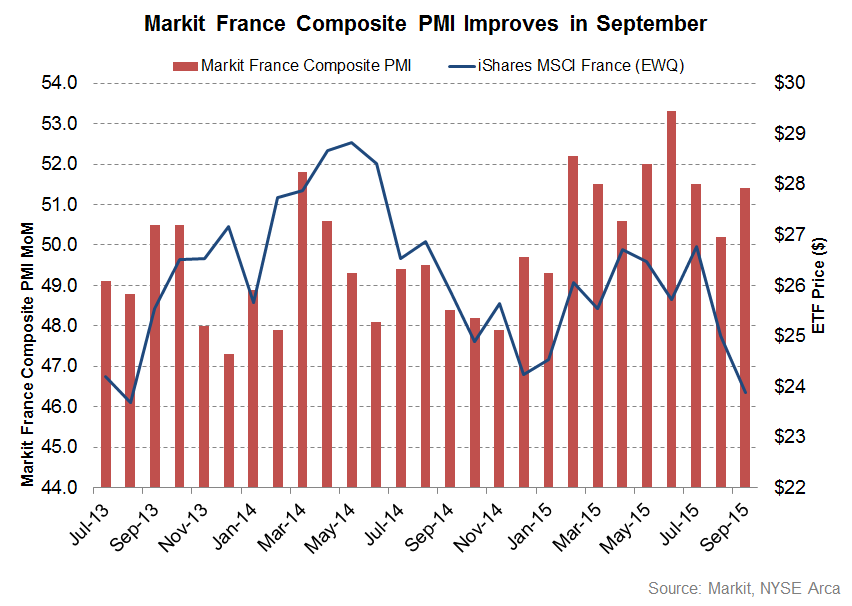 Service Sector Provides Optimism toward Growth in Germany
By Lara Sheldon

Nov. 20 2020, Updated 5:08 p.m. ET
Germany composite index reads at 54.3 in September
Germany's PMI (or purchasing managers' index), released every month, is one of the important indicators to demonstrate a track record of the business cycle in the country's economy. Germany's composite output index declined to 54.3 in September compared to 55.0 in August 2015.
Germany 's manufacturing PMI and output index were lower than in August. These figures stood at 52.5 and 54.2, respectively, in September as compared to 53.3 and 55.1, respectively, in August. Despite a decline in composite activity, an increase in new business orders and rise in export orders were recorded.
Article continues below advertisement
Decline in manufacturing decreases EWG
Although manufacturing had been in an expansionary phase, the pace has slowed down in September. Also, an increase in pre- and post-inventory levels suggests a cautious move from manufacturers about stock policies. The iShares MSCI Germany ETF (EWG) was down 12.17% as of September 23. Top German ADRs (or American depository receipts) trading in the US market such as BASF (BASFY) and SAP (SAP) were down 19.86% and 12.27%, respectively, whereas Fresenius Medical Care (FMS) has jumped up by 15.43% over the past year as of September 23.
Service sector stood lower at 54.3 in September
In addition to manufacturing, the services activity index also stood lower at 54.3 in September compared to a reading of 54.9 in August 2015. Following a downturn in the service sector, financial services stocks such as Deutsche Bank (DB) and Commerzbank (CRZBY) were down 21.97% and 31.95%, respectively, over the past year.
Software and computer services company SAP (SAP) recorded a decline of 14.09% over the past year as of September 23. However, service sector firms have reported optimism in the sector going ahead with new customers and increasing capacities.
Germany has fared well to remain in an expansionary phase. With growing optimism building on the service sector front and manufacturing that is trying hard to move past slower growth, its economy seems set to rebound. However, falling crude prices and a slowdown in emerging economies may play a spoilsport in growth prospects.
The Eurozone PMI was also released, providing a comprehensive outlook on business cycle across the Eurozone economies. We'll cover this in the next article.