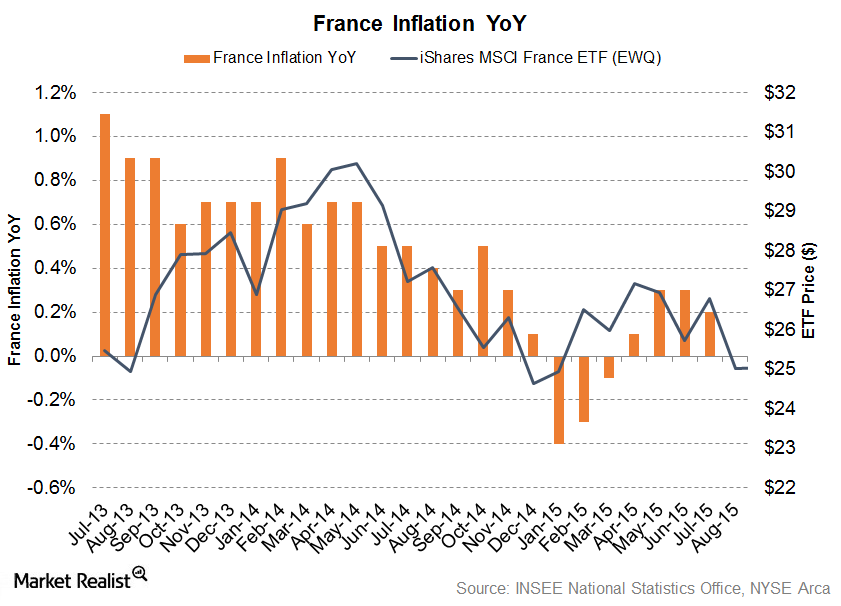 A Seasonal Fall in Manufactured Goods Brings Down French Inflation
By Lara Sheldon

Nov. 20 2020, Updated 12:08 p.m. ET
Lower inflation is weakening the economy
The consumer price index is an important economic indicator. France's consumer price index declined by 0.4% in July 2015 after a 0.1% fall in June. Inflation has fallen for the past two consecutive months. The decline was mainly due to a seasonal fall in manufactured goods linked to summer sales, seasonal decreases in fresh foodstuff prices, and a further fall in energy prices.
France has already experienced lower inflation and a further fall in inflation is not a good sign for the economy. Equity investors dislike both lower and higher inflationary pressure.
Article continues below advertisement
Poor inflation data pulls consumer stocks down
The France-focused iShares MSCI France ETF (EWQ) is composed of French equities. Within the ETF, the consumer discretionary and consumer staple sector stocks have a weight of 18.46% and 10.29%, respectively, as of June 30. Over the past year, the ETF is down 8.98% as of September 10. Sanofi (SNY), the ETF's top holding with a 9.5% weight, is down 10.69%. Total (TOT), with 8% weight in the ETF, is down 30.68%. Even consumer-specific stocks such as Danone (DANOY) and Vivendi (VIVHY) were down 6.87% and 3.20%, respectively, whereas Louis Vuitton (LVMUY) is up 5.24% over the past year.
France inflation data is published monthly by the INSEE (National Institute of Statistics and Economic Studies). Inflation states how much a consumer pays for the goods and services in the economy and provides an outlook towards economic growth. This is one reason investors await inflation data. Lower inflation may signal an economy is heading towards recession, whereas higher inflation may drag an economy to stagflation.
A lower inflation in France suggests a tepid investment environment and sluggishness surrounding the economy. However, ECB's quantitative easing of 60 billion euros a month may provide some respite to the Eurozone nations, including France, which are still facing structural problems.
With Brazil downgraded to a junk credit rating, its inflation figures will be very telling. We'll cover this in the next article.