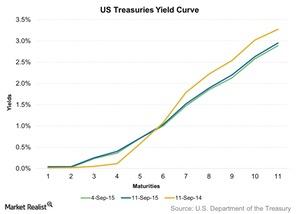 Safe-Haven Demand Fell amid a Heavy Supply of Treasuries
By Lynn Noah

Sep. 15 2015, Published 3:30 p.m. ET
Secondary market
US Treasury yields rose across the yield curve for the week ending September 11, 2015. Last week, the supply of Treasury securities rose due to the large issuance of high-grade bonds and China dumping US Treasuries.
However, the rise in the yields was restricted to single digits, except for two-year Treasury notes, or T-notes. Their yields didn't change week-over-week. The yield on the benchmark ten-year T-notes rose by seven basis points week-over-week. It ended at 2.20%.
The US Department of the Treasury auctioned T-notes worth $45 billion and Treasury bonds, or T-bonds, worth $13 billion last week. Similarly, high-grade bonds worth $54.1 billion were issued in the week ending September 11, 2015.
Article continues below advertisement
How consumer confidence and PPI data impacted yields
US consumer confidence fell in September to the lowest level, so far, in 2015. It fell due to stock market volatility. The volatility was caused by uncertainty in China and fears of a global slowdown. A fall in consumer confidence hurts large retailers like Walmart (WMT), Target (TGT), and Macy's (M).
Similarly, PPI (Producer Price Index) data, excluding food and energy, came in at 0.10% in September. It was lower than the previous month.
Falling consumer confidence and low inflation indicates that the economy is still weak. As a result, it doesn't give enough confidence to the Fed for the likely liftoff during the FOMC (Federal Open Market Committee) meeting on September 16–17.
China's falling Treasury holdings
China is cutting its Treasury holdings after the devaluation of the yuan last month. As a result, Treasury yields rose in the week ending September 11, 2015. According to the PBOC (People's Bank of China), as of June 2015, China owned $1.3 trillion of US Treasuries. China's foreign exchange reserves fell by $93.9 billion in August, mainly due to selling Treasury securities.
Investment impact
Due to a rise in Treasury yields, the week-over-week return on mutual funds fell.
Mutual funds like the American Funds US Government Sec A (AMUSX) and the MFS Government Securities Fund – Class A (MFGSX) provide exposure to Treasury securities.
AMUSX invests ~83% of its assets in Treasury securities. Its weekly returns came in at -0.14%.
MFGSX invests ~43% of its assets in Treasury securities. The fund's week-over-week returns were -0.16%.