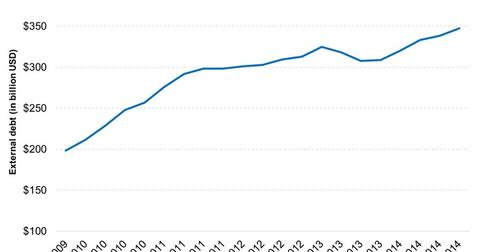 Rousseff's Governance and the Petrobras Scandal Impact Growth
By Surbhi Jain

Sep. 17 2015, Updated 10:07 a.m. ET
Rousseff's governance impacted economic growth
In January 2011, Dilma Rousseff became Brazil's president. Its economy was in pretty good shape. The economic growth touched 7.50% in 2010, according to the IMF (International Monetary Fund). The growth was driven by the commodity boom. It benefited companies like Vale (VALE), Gerdau (GGB), and Companhia Siderurgica Nacional (SID).
Article continues below advertisement
Petrobras' scandal
However, during Rousseff's first four years of service, the Brazilian economy witnessed a marked slowdown. The Petrobras scandal was associated with Rousseff's first term. During Rousseff's first term, Paulo Roberto Costa—the former director of supply at Petrobras (PBR)—was arrested for planning a bribery scheme on a grand scale. The bribery scheme took place at the company. He funneled the proceeds to the governing Worker's Party, its allies, and himself. The Worker's Party is chaired by Rousseff. Rousseff won a second term in Brazil on October 26, 2014.
Brazil needs to cut social spending
Also, there are some characteristics of Rousseff's governance that seem to impede Brazil's growth. Rousseff's party is known to advocate high social spending and continued engagement with the Common Market of the South, or Mercosur. However, Brazil needs to tap additional markets abroad that are outside the Mercosur.
High social spending isn't advisable for Brazil. Under Rousseff's governance, Brazil has seen public debt rising to damaging levels. Its external debt has been rising. It was $200 billion in 2009. Currently, it's around $350 billion.
The gross debt for Brazil (EWZ) is over 60% of its GDP (gross domestic product). Consumers, as well as the government, are borrowing more because weakened economic conditions are increasing the country's debt burden. The burden is even more problematic if you consider the country's high interest rates. The policy rate was raised to 14.25%—one of the highest among emerging economies (EEM). This dramatically increases the costs of servicing debt.
Recently, Brazil's economic situation has been getting worse. Let's take a quick look at certain key economic indicators in the region.