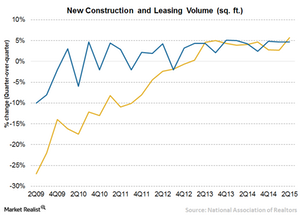 Rising Leasing Volume and New Construction Show Steady Demand
By Peter Barnes

Updated
Leasing data
According to the data from NAR (National Association of Realtors), leasing volume increased in 2Q15 by 4.7% compared to 5% in 2Q14, indicating that the market still has robust demand for lease properties. Leasing volume is the amount of space available for lease during a specified period. The average gross lease volume for the quarter was $629,000. With the rise in leasing volumes, leasing rates also increased by 2.7% in 2Q15 compared to a growth of 3.9% in the same period in the previous fiscal year.
As the demand for leasing space increased, builders have rushed to develop new properties, as evidenced by the 5.7% rise in new construction from 1Q15 to 2Q15. This was higher than the growth of 4.1% recorded in 2Q14.
Article continues below advertisement
Demand for smaller properties
NAR data show that tenant demand was concentrated mainly in smaller properties, as units with areas of less than 5,000 square feet accounted for 84% of total leased properties. As the economy recovers, smaller units are in demand initially, which spirals down to larger units as it gathers steam.
Longer lease term
In 2Q15, lease terms for commercial properties remained in favor of landlords, with longer duration lease accounting for the majority of the total market. According to data from NAR, leases of more than three years accounted for 72% of the market, while leases of less than a year comprised 14%. Two-year leases formed 15% of the total market.
The longer lease duration is beneficial to REITs such as Simon Property Group (SPG), Public Storage (PSA), Crown Castle International Corp (CCI), Equity Residential (EQR), and Vanguard REIT ETF (VNQ), as it ensures continuous occupancy of the assets, ensuring a steady, secure rental income stream. On the other hand, in the rising market longer duration could negatively affect REITs, as the rents can't be marked to market.
Next, we will see how the construction spending is increasing property supply in the market.