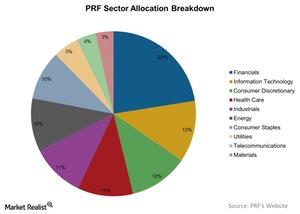 PRF's Factors for Stock Selection—a Departure from LRGF
By Ivan Kading

Updated
Factors determine quality
The PowerShares FTSE RAFI US 1000 Portfolio (PRF) is a smart beta fund managed by PowerShares that seeks to track the investment results of the FTSE RAFI US 1000 Index. Similar to the iShares FactorSelect MSCI USA ETF (LRGF), PRF's index has an investment model that selects stocks for investment based on four fundamental factors. But PRF's selection factors depart from those of LRGF and focus on:
book value
cash flow
sales
dividends
Article continues below advertisement
Top holdings
The top five holdings of PRF are Exxon Moblie (XOM), AT&T (T), JP Morgan (JPM), General Electric (GE) and Wells Fargo & Company (WFC). PRF has significant investments in the Financial, Information Technology, and Consumer Discretionary sectors. The Financial sector represents 22.48% of the PRF's portfolio.
PRF's top ten holdings represent 17.76% of its total portfolio. It currently manages total net assets of $4.16 billion, distributed over a vast portfolio of 1004 securities. The 1,000 equities with the highest fundamental strength are weighted by their primary scores. Both the PRF fund and its index are reconstituted annually. The fund has a net expense ratio of 0.41%.
PRF's recent performance
PRF was launched on December 19, 2005, and has given a total lifetime return of 8.87% to its investors. Since January 01, 2015, the fund has given a total return of 0.19%. Its PE (price-to-earnings) multiple is 16.67, and its PB (price-to-book) ratio is 1.56.
PRF's PC (Price-to-cashflow) ratio is 8.51, while its average PS (price-to-sales) ratio is 1.11. The portfolio's average DY (dividend yield) is 2.57%. PB, PC, PS, and DY are the four fundamental factors PRF uses when selecting which stocks it will invest in.
In the next and final part of the series, we'll look more specifically at some comparative research on LRGF and PRF.