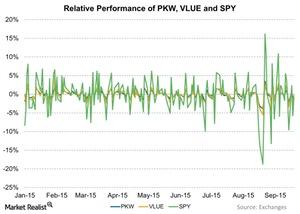 PKW and VLUE Side by Side with SPY
By Ivan Kading

Sep. 29 2015, Updated 9:08 a.m. ET
PKW and VLUE
The PowerShares BuyBack Achievers Portfolio (PKW) and the iShares MSCI USA Value Factor ETF (VLUE) aim to beat the performance of the S&P 500 (SPY) by following an indexing approach to investing. PKW invests in the major buyback achievers of its index, whereas VLUE invests in companies with strong valuations.
The Home Depot (HD), The Boeing Company (BA), and Lowe's Companies (LOW) are some of PKW's top stocks, while Pfizer (PFE), Intel Corporation (INTC), and Cisco Systems (CSCO) are VLUE's top holdings.
Article continues below advertisement
Performance comparisons
As the above graph shows, SPY's performance was more volatile than that of PKW and VLUE. PKW and VLUE performed nearly equally in the market, with PKW leading VLUE at various points.
Since inception on December 20, 2006, PKW has given a total return of 9.89% to its investors. VLUE, on the other hand, has given a total return of 14.83% to its investors since inception on April 16, 2013. As of September 23, 2015, VLUE has given an annual total return of 5.31%.
Conclusion
Smart beta funds don't aim to beat their indexes. Their main aim is to track the performance results of their indexes. Such a phenomenon is known as indexing.
The index of a smart beta fund is a modified version of a traditional, market-based index, which follows a defined strategy. PKW and VLUE both mimic indexes that aim to beat the performance of the S&P 500 (SPY). Both indexes follow different approaches to investing, with different correlations to the market.
In this sense, smart beta funds are hybrids of active and passive management approaches to investing.