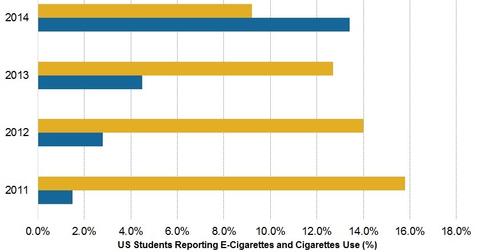 Philip Morris's Expansive Vision of Strategic Acquisitions
By Penny Morgan

Updated
Acquisition history
Philip Morris International (PM) believes in the continual review of its acquisition and investment opportunities. In September 2013, Grupo Carso (Grupo Sanborns SAB de CV) sold its remaining 20% interest in Philip Morris's Mexico tobacco sector for $0.70 billion. As a result, Philip Morris now owns 100% of its Mexico tobacco sector. In December 2013, Philip Morris acquired a 20% equity interest in Megapolis Distribution BV, the holding company of CJSC TK Megapolis, for a purchase price of ~$0.8 billion.
The above graph shows the use of e-cigs by US students tripled from 4.5% in 2013 to 13.4% in 2014. This rise may help explain, in part, Philip Morris's recent interest in acquiring companies that produce tobacco alternatives.
Article continues below advertisement
Recent acquisitions versus peers
In June 2014, Philip Morris acquired 100% of Nicocig, a leading UK-based e-vapor company whose principal brand is Nicolites, for a purchase price of $0.1 billion. This acquisition should help Philip Morris gain a significant presence in the UK e-vapor market. Following this acquisition, Japan Tobacco (JAPAF) bought Zandera, the maker of E-Lites, another leading e-cigarette brand in the UK.
In July 2014, British American Tobacco (BTI) announced an investment of $4.7 billion in Reynolds American (RAI) for the completion of its proposed acquisition of Lorillard Tobacco Company. In June 2015, Reynolds completed its acquisition of Lorillard in a cash and stock deal, but the company divested the KOOL, Salem, Winston, Maverick, and blu eCigs brands to Imperial Tobacco Group (ITYBY) for ~$7.1 billion in cash.
Growing via selective acquisitions
Philip Morris plans to strengthen its brand portfolio and market positioning through selective acquisitions and strategic business development opportunities. One way the company hopes to enhance profitability and growth is in its North Africa and Middle Eastern markets.
In particular, the company plans to restructure its business in Egypt through a new business model, which will entail a new manufacturing contract with long-standing strategic business partner Eastern Company, as well as a new distribution agreement with Trans Business for Trading and Distribution. These contracts should help create a new Philip Morris affiliate in Egypt.
Philip Morris has exposure in the SPDR S&P 500 ETF (SPY) and in the Consumer Staples Select Sector SPDR ETF (XLP), with 0.7% and 7.4% of the portfolios' total weights, respectively.