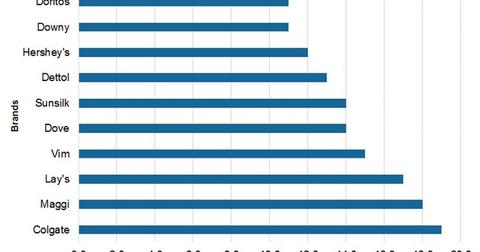 P&G's Fabric Care Business Leads Globally
By Penny Morgan

Updated
4Q15 revenue overview
As we observed in the previous article, The Procter & Gamble Company's (PG) fabric care segment is one of the highest revenue contributors in the company. The company's 4Q15 sales (for P&G, 4Q15 ended June 30, 2015) for this segment came in at $5.3 billion, the highest among all product segments. Organic sales grew 3% in the quarter, as both volumes and pricing increased.
Article continues below advertisement
Product innovations
Earlier this year, the company launched Tide PODS with Febreze, Tide Original Scent PODS, Gain Flings, and Tropical Sunrise Scent in the US. This was due to the growing scent line of products in the US. According to CFO Jon Moeller, P&G holds about 70% share of the scent segment in the US and expects to deliver over $0.4 billion in global sales this fiscal year in this category.
The company upgraded Dash in France, as well as Daz and Bold in the UK, from single-chamber unit dose products to multi-chamber PODS. This was because the size of the price and the value creation returns are attractive in these markets.
Brand penetration
P&G also grew Downy and Lenor in established markets like Germany, Japan, Thailand, and Indonesia. According to Kantar's Brand Footprint report, Downy is the 9th fastest-growing FMCG brand, and it attracted 11 million new shoppers in 2014—up 23%. Colgate-Palmolive (CL) and Dove (UL) attracted 19 million and 14 million new shoppers, respectively.
Article continues below advertisement
Focus on laundry detergents
P&G is exiting its bleach business, unprofitable laundry additives, and low tier powders, and choosing instead to invest in consumer-preferred products like unit-dose laundry detergents. Globally P&G's unit-dose laundry retail (XRT) sales are over $1.5 billion.
Emerging markets
Along with other companies like Clorox (CLX) and Kimberly-Clark (KMB), P&G also focuses on developing markets. The company is planning to launch a new compact liquid laundry detergent in developing markets and has launched this product already in Russia, Turkey, and Mexico.
P&G has exposure in the SPDR Dow Jones Industrial Average ETF (DIA), with 2.7% of the total weight of the portfolio as of September 12, 2015.
In the next part of this series, we'll look at P&G's grooming and hair care brands.