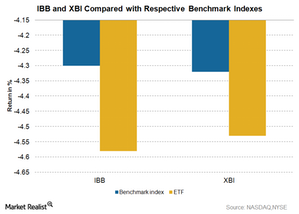 Performance of XBI and IBB with Respective Benchmark Indexes
By Peter Neil

Updated
Performance of XBI and IBB with benchmark indexes
The iShares Nasdaq Biotechnology ETF (IBB) fell 4.58%. IBB, which tracks the NASDAQ Biotechnology Index, fell 4.3% for the week ended September 4, 2015. Similarly, the SPDR S&P Biotech ETF (XBI) fell 4.53%. It tracks the S&P Biotechnology Select Industry Index as its benchmark index, which fell 4.32% for the same period.
The above graph reflects the performance comparison of IBB and XBI with their respective benchmark indexes. XBI outperformed IBB.
Article continues below advertisement
A few limelight stocks of XBI and IBB
Myriad Genetics (MYGN) rose 5.30%. According to the press release, MYGN hosted an investor day in New York on September 14, 2015. The management team planned to discuss the company's five-year strategic plan and provide an update on its three strategic imperatives to transition and expand the hereditary cancer market.
On September 4, 2015, MYGN stock closed at $38.36 and traded above the 20-day, 50-day, and 100-day moving averages. MYGN has a weight of 0.93% in XBI.
Clovis Oncology (CLVS) rose 4.08%. The stock is recovering from its recent low of $67.02 on August 24, 2015. On September 4, 2015, the stock closed at $83.83, trading above the 20-day and 50-day moving averages. CLVS announced it would present data on four rociletinib mini-oral presentations and two scientific posters debuting at the World Conference on Lung Cancer in Denver. CLVS has a weight of 0.43% in IBB and 1.13% in XBI.
The Medicines Company (MDCO) rose 20.15% as Alnylam Pharmaceuticals (ALNY) and MDCO announced positive initial results from their ongoing Phase 1 clinical trials with ALN-PCSsc developed for the treatment of hypercholesterolemia. MDCO has a weight of 0.27% in IBB.