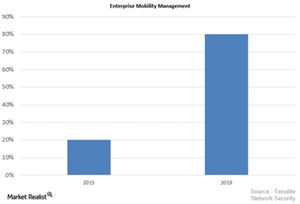 Organizations Are Facing Issues with Mobile Device Management
By Parker Thomas

Updated
Thin line between mobile device management and vulnerability management
To keep up with business demands and to maintain the competitive edge, enterprises highly depend upon devices like tablets, smartphones, and Pocket PCs. The increase in mobile device usage has also resulted in an increase in the volume of threats and vulnerability. There is a thin line between mobile device management (or MDM) and vulnerability management (or VM). In fact, to address these challenges from mobile devices, organizations have now started including mobile device management as part of vulnerability management.
Article continues below advertisement
However, organizations are facing issues with managing mobile devices with vulnerability management, since there is no standard template available to manage different devices. Moreover, devices are sensitive to security software installed, which must be compatible with the operating system a particular device is using like Apple's (AAPL) IOS or Google's (GOOG) Android. As a result, picking the right vulnerability management solution that provides the maximum flexibility becomes a significant issue.
VA solution will incorporate enterprise mobility management by 2019
By 2019, it is estimated that 80% of the vulnerability assessment (or VA) will incorporate enterprise mobility management (or EMM) capability to assess mobile devices compared to 20% today. Moreover, by 2017, 40% of enterprises will extend their VA solution to cover smartphones and tablets compared to 5% today.
To increase the productivity of employees and to reduce the organization's cost, enterprises have started adopting the BYOD (bring your own device) model. Gartner estimated that around 62% of employees were already using their device for work purposes. Despite the increase in EMM and MDM across the enterprise, the focus on vulnerability management remains blurred. As a result, smartphones, tablets, and other devices are not a part of vulnerability assessment and management programs. This has created a gap in the ability of IT security to adopt a centralized view of the risk and security posture, and this gap will keep on widening.
The ISE Cyber Security ETF (HACK) consists of 32 stocks, out of which Fortinet (FTNT) constitutes 4.98% and Juniper Networks (JNPR) constitutes 4.42%.