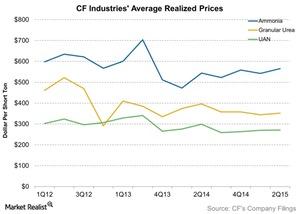 How Much Was CF Industries Impacted by Price Drop in Fertilizers?
By Adam Jones

Updated
Fertilizer prices
Overall prices for nitrogen fertilizers fell during 2Q15, which impacted CF industries's (CF) revenue, as we saw in the previous part of this series. UAN prices fell to $271 per short ton (1 short ton equals 2,000 pounds) from $299 in the corresponding quarter a year ago. Urea prices also fell to $352 per short ton from $396. Ammonia prices, however, increased to $565 per short ton from $544 over the same period. So, why have prices fallen?
Article continues below advertisement
Why did prices drop?
Over the years, prices of nitrogenous fertilizers have fallen as a result of growing capacity globally.
US producers have also added new nitrogen capacity over the past few years.
UAN and granular urea prices fell as a result of oversupply, especially coming from China, where producers in the past have enjoyed subsidies. Lower coal prices also played a role.
Subsidies increase production, and a relatively unchanged demand pushes prices downward.
There is an anticipation that these subsidies will be rolled back and VAT (value-added tax) will be imposed, making it expensive for Chinese producers.
This change is anticipated to set a floor for global urea prices, which CF expects to be around $260.
However, coal-based Chinese producers benefit further from falling coal prices, which reduce their input costs.
This can cause concern for prices in the future and may negatively impact CVR Partners (UAN), Terra Nitrogen (TNH), and VanEck Vectors Agribusiness (MOO), which currently holds 7.8% of its holdings in CF Industries and Mosaic (MOS).
Another reason for the fall in prices was delayed purchasing due to unfavorably wet conditions in the eastern Corn Belt in the US.
However, a decline in UAN and urea prices was offset by an increase in ammonia prices.
According to the company, prices of ammonia increased because ammonia application was preferred to other forms of nitrogen fertilizers, and there was a tighter supply compared to a year ago in 2014.
CF is one of the low-cost producers, which makes the company competitive and creates incentive to reap the benefits of a higher spread between its cost of production and that of marginal producers.
This is demonstrated in the chart above, which shows CF at the extreme left of the cost curve.
Besides prices, shipments or volumes have also taken a hit during the quarter, impacting CF's revenue. In the next part, we will explore why.