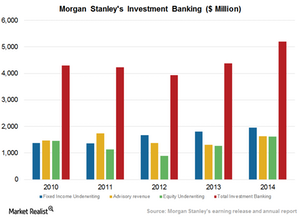 Morgan Stanley's Dominant Position in Investment Banking and Lending
By Robert Karr

Updated
Investment banking
Morgan Stanley (MS) provides investment banking services classified under its Institutional Securities segment. The company advises on the following services:
equity and fixed-income underwriting
advisory services for restructuring
joint ventures
private placements
Investment banking revenues made up 15% of the company's total revenues in 2014, compared to 13.6% in 2010. Morgan Stanley competes with investing banking firms like:
Together, with other diversified financial services firms, these companies make up ~28% of the Financial Select Sector SPDR (XLF).
Article continues below advertisement
Capital raising
Morgan Stanley has positioned itself strongly over the years in investment banking activities. The company is engaged in market-making and manages public stock and instruments offerings, as well as private placements of debt, equity, and other instruments worldwide.
Morgan Stanley also engages in the underwriting of:
common stock
preferred stock
convertible securities, ADRs (American Depositary Receipts), and other equity-related securities
The company also provides underwriting services for:
fixed-income securities
mortgage-related securities and other asset-backed securities
tax-exempt securities
commercial paper and other short-term securities
financial advisory services
Morgan Stanely's financial advisory is highly correlated with the performance of an overall economy. The company advises clients on:
key strategic matters
mergers, acquisitions, and joint ventures
spin-offs and divestitures
corporate restructuring and recapitalizations
exchange offers
leveraged buyouts and takeover defenses
shareholder relations
It also provides advisory on valuations, foreign exchange exposure, rights offerings, financial risk management strategies, and financial planning.
The company's real estate advisory includes project financings and provides advisory services related to the purchase, sale, leasing, and financing of real estate.
Corporate lending
Through its subsidiary Morgan Stanley Private Bank, NA (National Association), Morgan Stanley provides the following corporate clients:
structured finance
lending commitments
syndicated loans
bridge financing
The company has offerings for senior and subordinated debt, contingent upon warranties, representations, and contractual conditions.
For more details about Morgan Stanley's sales and trading activities, check out the next part of this series.