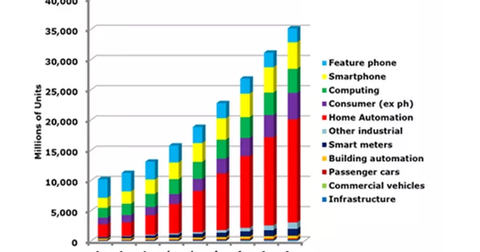 Microchip and Intel Collaborate to Enhance IoT Privacy
By Adam Rogers

Updated
Data security and privacy
On August 25, 2015, Microchip (MCHP) announced a collaboration with Intel (INTC) in order to enhance privacy and security in the Internet of Things (or IoT) products. Microchip is a leading provider of microcontroller, mixed signals, analog, and Flash IP solutions.
Microchip's senior product marketing manager, Bill Swanson, said that Microchip is licensing Intel's EPID (Enhanced Privacy ID) software for its products. He added, "This solves two issues: one being security or authenticating, and the second is being able to have privacy in the data." Swanson was of the opinion that Intel's EPID is a proven approach with regard to device authentication that provides security and privacy for the "on-ramp" to the Internet of Things.
Tech stocks in the semiconductor and telecom segments, including heavyweights like Micron (MU) and Verizon (VZ), are betting on the huge potential in the IoT space to expand and increase revenues in the long term.
Article continues below advertisement
Microchip aims to provide IoT solutions
Huge growth is expected in the IoT space as more devices are connected and carry information with respect to the users' businesses, communities, and lifestyle. As this universe of information grows, it is essential to ensure safe and secure communication that protect the users' data and identities.
Lorie Wigle, general manager of Internet of Things Security at Intel, noted, "By utilizing Intel EPID technology, Microchip's customers can maintain end-to-end security and privacy in their IoT products and services, which helps them to protect data from device to cloud, minimizes unauthorized access of endpoints and gateways, and will promote a common security framework for IoT platforms."
Intel's EPID provides authentication that allows a service provider to verify whether the end user belongs to a group authorized to access the service. It also protects end-user privacy, enabling users to receive the service without revealing their identity.
Microchip comprises 0.05% of the iShares Core S&P 500 ETF (IVV) and 0.25% of the Technology Select Sector SPDR ETF (XLK), respectively.