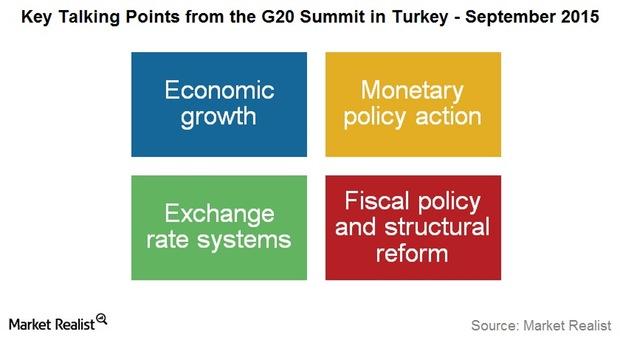 Key for Investors: Report from the G20 Summit, September 2015
By David Ashworth

Dec. 4 2020, Updated 10:53 a.m. ET
G20 Summit
The G20 is a forum of 19 countries and the EU (European Union) that convenes at various levels of government to discuss policy level enhancements required for the global economy in general and the group in particular. Read Why is the G20 forum important for investors? to learn more about the G20 Summit.
The G20 Finance Ministers and Central Bank Governors Meeting was held in Ankara, Turkey, on September 4 and 5. Investors who have a top-down approach to investing would find these meetings important. They provide a long-term view of large nations' policy agenda. This could have an impact on investments.
Article continues below advertisement
The report
According to a predetermined practice, the G20 forum came out with an announcement related to the various aspects that were deliberated on and discussed. In this series, we'll focus only on the aspects that can have a direct impact on your investments.
Out of 13 key announcements, we've grouped the major ones under the following four heads:
Economic growth – The forum expressed disappointment on global economic growth falling short of expectations. They pledged to take action to get economic growth back on track.
Monetary policy action – The G20 member nations highlighted that monetary policy is important to bolster economic activity, but it can't do the job alone. They also highlighted the difference in the monetary policy paths of various countries.
Exchange rate systems – The G20 leaders pledged to refrain from competitive devaluations of their respective currencies.
Fiscal policy and structural reform – A key agenda point was fiscal policy and its impact on boosting economic growth. They also continued to highlight the importance of structural reforms.
These policy level discussions can have an impact on global ETFs like the Vanguard Total World Stock ETF (VT) and the iShares MSCI ACWI ETF (ACWI). These factors are connected. This can impact companies with global operations like General Electric (GE), Novartis AG (NVS), Pfizer (PFE), and ExxonMobil (XOM). They have holdings in the ETFs mentioned above. They can impact their performance as well.
In the next part, let's see why the G20 leaders are concerned about global economic growth.