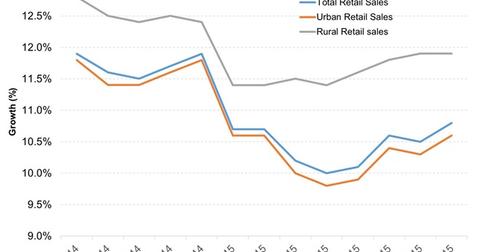 JD.com Has Its Own Delivery Strategy for Rural China
By Matilda James

Updated
Local delivery stations
So far in this series, we've discussed how Alibaba Group Holding (BABA) is planning to expand its logistics network to reach out to rural online consumers in China. It's arch rival, JD.com (JD), is using a different strategy.
Unlike Alibaba, which is working toward building new product delivery spots across rural China, JD.com delivers product packages via its own network of warehouses and local delivery stations. These packages are delivered to "brand promoters" in villages that have contracts with JD.com. Brand promoters are groups of people who at times work with third-party logistics carriers to deliver these packages in hand to consumers in various villages.
JD.com, hence, works in a similar way as Amazon.com (AMZN), which also sells its products directly.
China's total retail sales of consumer goods rose by 10.8% YoY (year-over-year) to 2.49 trillion yuan in August, according to the above graph and to a report from China's National Bureau of Statistics.
Article continues below advertisement
E-commerce played a major role in driving up retail sales for these companies. Most of these companies' online sales were executed through mobile apps on smartphones. A large contribution to total retail sales came from rural regions as well, due to the increased reliance of online platforms for shopping by residents of rural areas.
Baidu (BIDU), JD.com, NetEase (NTES), and 58.com are some of the leading players in the e-commerce segment. However, with the recent slowdown in Chinese local and foreign sales, the unexpected increase in retail sales comes as a surprise and may raise some doubts about the reliability of certain sales data.
Urban and rural retail sales data
Urban retail sales rose by 10.6% YoY to 2.15 trillion yuan in August, after rising 10.3% in July. Rural areas have become a significant source of retail sales growth, and so retailers are focusing on rural China (FXI) to increase their penetration in e-commerce.
In August, rural retail sales in China rose by 11.9% YoY to 3.37 trillion yuan.