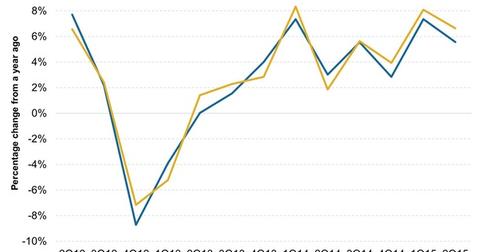 Japan's 2Q15 Capital Spending Slows but Profits Skyrocket
By David Ashworth

Updated
Japan's capital spending
A release by Japan's finance ministry showed that capital spending in Japan rose by 5.6% in 2Q15 from the same period a year ago, down from a 7.3% pace in the previous quarter. Capital spending on plants and equipment, less software, comprises ~90% of total capital spending. It rose 6.6% in 2Q15 from a year ago compared to an 8.1% rise in 1Q15.
During Shinzo Abe's tenure as Japan's prime minister, capital spending has risen in all quarters except in 4Q12 and 1Q13. However, the pace has been far from consistent. It fell to 2.8% as recently as 4Q14.
Article continues below advertisement
The latest slowdown brings to light to two important points. The first is that capital spending has been providing some positive news about Japan amid mostly gloomy reports. However, the inconsistency shows that the Japanese government may need to do more from its end to support the economy so that corporations can be more confident about the country's economic future.
The second point provides a reason for the latest fall. China is a prominent trading partner with Japan. With China having reduced its imports from Japan, corporations may be less incentivized to invest. Both investors and Japanese corporations could expect this reduction to be transitory. A sustained slowdown in exports to China wouldn't only hurt corporate profits and exports but would also further slow down capital spending, affecting Japan's overall GDP (gross domestic product) in multiple ways.
Japanese corporate profits
The report brought good news on the corporate profits front. It showed that Japanese corporate profits had surged by 23.8% in 2Q15 from a year ago after having nudged up by just 0.4% in 1Q15. A fall in the yen, along with suppressed crude oil prices, has boosted corporate profits in Japan.
Meanwhile, wages and salaries rose for the fifth consecutive quarter, rising by 0.4% in 2Q15.
All of this, in the broader spectrum, is good news for Japan-focused investments, including mutual funds like the Fidelity Advisor Japan Fund – A (FPJAX), the Nuveen Tradewinds Japan – A (NTJAX), the T. Rowe Price Japan Fund (PRJPX), and the Matthews Japan Fund – Investor Class (MJFOX). The one factor to watch out for is China, as a slowdown there would affect Japanese exports like Sony Corporation (SNE), Nidec Corporation (NJ), and Canon (CAJ).