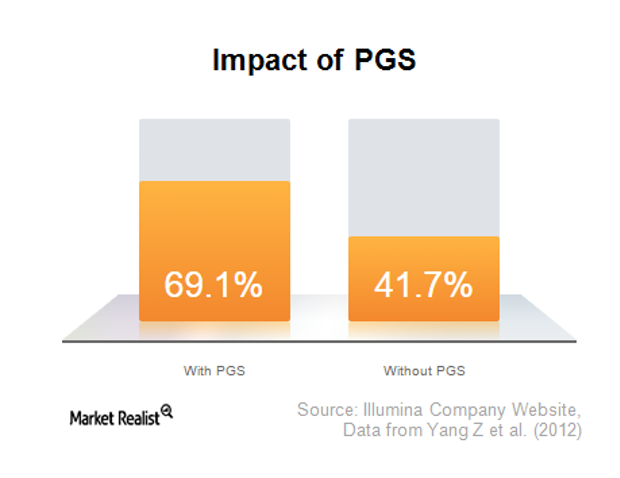 Illumina Exploring In Vitro Fertilization Opportunities
By Margaret Patrick

Dec. 4 2020, Updated 10:53 a.m. ET
The in vitro fertilization market
Illumina (ILMN) is working in the reproductive health market to enhance the efficacy of IVF (in vitro fertilization) tools.
The above diagram shows that PGS (preimplantation genetic screening) solutions used along with IVF lead to a higher pregnancy rate 20 weeks after the IVF cycle.
Article continues below advertisement
Preimplantation genetic screening and diagnosis
Mayo Clinic describes IVF as "a complex series of procedures used to treat fertility or genetic problems and assist with the conception of a child. During IVF, mature eggs are collected (retrieved) from your ovaries and fertilized by sperm in a lab. Then the fertilized egg (embryo) or eggs are implanted in your uterus."
Illumina provides PGS solutions along with IVF to recognize if there is an abnormal number of chromosomes in the embryo, the major cause of IVF failures. PGS services can boost IVF's success as well as reduce spontaneous abortions. PGS is a market with projected annual growth rate of 60% and market penetration of only 3%. In the second quarter of 2015, Illumina (ILMN) launched VeriSeq PGS, a sequencing-based tool. The company reported a 25% rise in sales to IVF laboratories with 20% attributed to VeriSeq PGS sales.
Illumina also provides PGD (preimplantation genetic diagnosis) services that aid IVF tools in identifying mutation-free embryos. PGD services enable parents with genetic disease to deliver healthy children. In the first quarter of 2015, Illumina launched CytoSNP Karyomapping, which offers fast, reliable, and economic PGD services.
Collaborating in oncology with AstraZeneca (AZN), Sanofi (SNY), and Johnson & Johnson (JNJ), Illumina is actively pursuing similar deals in the $2 billion reproductive health market. The company has completed several acquisitions, such as BlueGnome and Verinata Health, to further strengthen its reproductive health portfolio.
Investors can get exposure to Illumina's growing PGS and PGD market share yet avoid company-specific risks by investing in the iShares Nasdaq Biotechnology ETF (IBB). Illumina accounts for 4.09% of its total holdings.