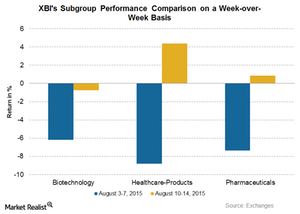 ICPT and XON Put Pressure on XBI's Biotechnology Sector
By Peter Neil

Updated
Biotechnology sector underperforms
The SPDR S&P Biotechnology ETF's (XBI) portfolio consists of three subgroups: biotechnology, pharmaceuticals, and healthcare products with weights of 65.01%, 32.21%, and 2.73%, respectively. For the period August 10-17, 2015, the biotechnology sector underperformed with a return of -0.73%. The pharmaceuticals sector had a return of 0.87%, while the healthcare products sector outperformed all sectors with a return of 4.37%. The healthcare products sector's weight is 2.73% of the portfolio, and thus its impact on the fund is low.
The above diagram reflects the performance of the XBI's subgroup on a week-over-week basis.
Article continues below advertisement
ICPT and XON drag down biotechnology
Intrexon (XON) plummeted by 14.4% as it announced its 2Q15 results. As per the company's press release, XON's total revenue was $44.9 million. However, it also reported a net loss of $40.7 million. During the quarter, it earned collaboration revenue of $115 million from Merck KGaA. XON has a weight of 0.90% in XBI.
Intercept Pharmaceuticals (ICPT) had a weight of 0.91% in XBI. The company fell by 11.68% for the week. The stock went down on poor 2Q15 results, and investors don't appear to be curious about the initiation of the company's phase two trial of lipid metabolism or the launch of the phase three trial of REGENERATE.
Alnylam Pharmaceuticals (ALNY) rebounded with gains of 5.47% as of August 17, 2015, after plummeting 16.6% for the week ended August 7, 2015. Also, as per the company's presentation, ALNY has filed for clinical trial agreement (or CTA) and has initiated a phase one/two study of ALN-AAT. The company expects the clinical trial results in early 2016. ALNY has a weight of 1.15% in XBI.
NBIX pushes up pharmaceuticals
On the other hand, Neurocrine Biosciences (NBIX) went up by 3.70%. As per the company's press release, NBIX has completed the subject randomization of its phase three clinical trial for its NBI-98854 to treat patients with tardive dyskinesia. NBIX makes up 1.02% of XBI.