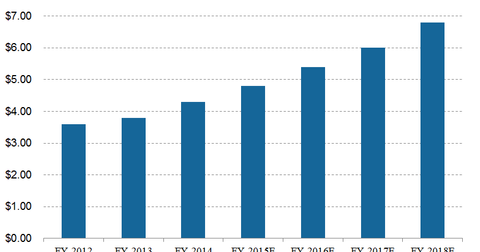 IBM Looks to Enhance Service Offerings
By Adam Rogers

Updated
Cybersecurity, a high-growth market segment
In Part 1 of this series, we saw that FireEye (FEYE), one of the fastest growing companies in the cybersecurity space, is looking for potential acquisitions that will help it build and diversify its portfolio. Other companies, including Symantec (SYMC) and tech heavyweight International Business Machines (IBM), are also looking to acquire companies in the high-growth cyberspace so they can enhance their service offerings.
Prior acquisitions in this space
In 2014, IBM acquired CrossIdeas, a company that creates software and manages access to data as well as applications. IBM is competing with FireEye to acquire CyberArk (CYBR), a company that has shown strong year-over-year growth in revenues, to expand its position in the privileged access management segment. Palo Alto Networks (PANW), a market leader in the cybersecurity space, is looking for low-cost acquisitions such as Cyvera in the range of $200 million.
There has been a continuous increase in the valuation of cybersecurity companies due to recent acquisition momentum. According to 451 Research, there were 82 security deals worth approximately $6.6 billion at the end of July 2015. This indicates that the cybersecurity market is one of the hottest sectors for M&A (mergers and acquisitions) transactions.
Valuations and market potential
As brick and mortar companies are increasingly moving toward an online presence, it's extremely essential for these companies to take advantage of the services of cybersecurity companies. Security breaches are one of the major concerns of companies, especially in the tech space, since Sony Pictures was hacked by a group originating in North Korea. Companies are now willing to spend a decent part of their revenues to prevent data theft.
CyberArk and Palo Alto are trading at PE (price-to-earnings) ratios of 105x and 65x, respectively. In comparison, the S&P 500 is currently trading at a PE of 20x. Wells Fargo has valued CyberArk at 12.5x compared to its revenue estimates.
FireEye makes up 0.02% of the iShares Russell 1000 Growth ETF (IWF) and 0.08% of the iShares Russell Mid-Cap ETF (IWR).