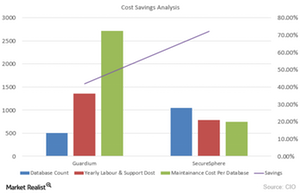 Why Global Computer Technology Switched to Imperva SecureSphere
By Parker Thomas

Sep. 17 2015, Published 3:49 p.m. ET
Lowered the operational cost by 70%
In this new era of technology, organizations need security and efficiency in their daily operations. Recently, Global Computer Technology switched from IBM (IBM) Guardium deployment to Imperva SecureSphere to protect its database from potential cyberattacks. In a price competitive industry like IT, cost savings is a challenging issue. This leads to a razor-thin margin for the organization. By switching to SecureSphere, Global Computer Technology could reduce 70% of the operational cost and save $1.9 million in labor and support costs.
Article continues below advertisement
The majority of the cost components with Guardian involved the support renewal price. After switching over to SecureSphere, the company realized that the labor cost reduced by over 50%. From the above chart, you can see that the database monitoring count rose from 500 to 1,050 with just 65 virtual appliances—compared to 135 virtual appliances. SecureSphere hasn't just reduced the cost. It's also easy to deploy within 60 days. Following the success, the company has decided to roll out to a total of 1,050 databases.
Operational analysis
The annual operational cost per database with Guardian was $2,710. It has been reduced to $744 per database. This is a decrease of 72%. That made the yearly cost savings ~$1.9 million for the 1,050 databases. Saving on the operations allowed the company to compete more effectively in the industry. The industry has a thin profit margin.