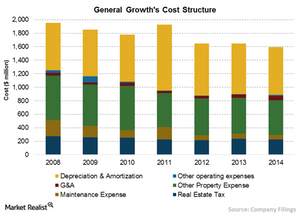 General Growth Properties' Essential Cost Structure Breakdown
By Peter Barnes

Updated
Cost structure
The consolidated cost of General Growth Properties (GGP) was $1.59 billion in 2014, a decline of 3.1% over 2013. The cost remained flat in 2013 over 2012. Depreciation and amortization made up 44.4% of the total cost in 2014, followed by property operating expenses, at 21%, and real estate taxes, at 14.3%.
Article continues below advertisement
Cost components
In 2014, GGP's property operating expense, which has been steadily declining since 2008, declined further by 4.1% to $808.3 million, compared to 2013. This decline was mainly related to decline in property maintenance costs and other property operating costs.
GGP's depreciation and amortization expenses, which declined by 3.1% to $708 million in 2014 compared to 2013, was primarily due to in-place leases becoming fully amortized. This led to a $34.6 million decrease in amortization expenses. The company's G&A (general and administrative) expenses increased by 30.1% to $64 million in 2014 over 2013. The rise in G&A expenses was due to loss from the settlement of litigation in 2014.
EBITDA margin better than most peers
GGP recorded an EBITDA margin of 68.7% in 2014, compared to 68.3% in the previous year. In 2011, the company recorded the highest EBITDA margin in a decade—71.7%.
EBITDA margin recorded by GGP in 2014 was lower than its closest competitor, Simon Property Group (SPG), which recorded an EBITDA margin of 75.4%. On the other hand, GGP's EBITDA margin was higher compared to other competitors like Macerich Company (MAC), which had a margin of 58.2%, and CBL & Associates Properties (CBL), which had a margin of 64.5%.
GGP makes up 2.93% of the holdings of the Schwab US REIT ETF (SCHH).
In the next part of this series, we'll discuss GGP's funds from operations.