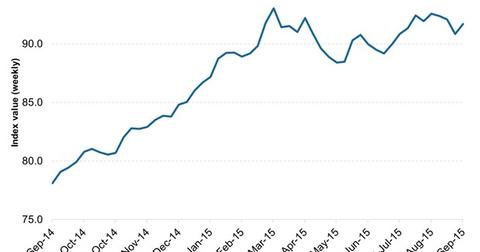 Why the G20 Is Trying to Evade a Currency War
By David Ashworth

Sep. 14 2015, Published 9:52 a.m. ET
Is China the harbinger of a currency war?
The PBOC (People's Bank of China) is China's central bank. It surprised financial markets when it devalued the nation's currency, the Chinese yuan, against the US dollar on August 11. Investors should note that unlike several other currencies like the euro (FXE) and Hong Kong dollar, among others, whose value is determined by the market, the Chinese yuan is pegged to the US dollar (UUP). China's central bank determines the value of the yuan against the US dollar on a daily basis.
The PBOC didn't stop with its devaluation. There was a devaluation on two succeeding days as well.
Article continues below advertisement
These moves had a significant impact on all of the financial instruments. US equities reacted sharply after the first devaluation. Stocks like Apple (AAPL), Caterpillar (CAT), and Tiffany & Co. (TIF) fell due to their business links with China. Such aggressive moves suggested that the Chinese economy was slowing down quicker than expected and Chinese authorities had taken this action to stem this fall.
These moves brought another concern with them—enhanced currency wars.
Why are there concerns?
China is a big exporter of various goods like apparel, footwear, and electronics. A reduction in the value of its currency against the dollar makes its goods cheaper in the international market. This provides a boost to its exports.
Countries, especially Asian nations like South Korea and Taiwan that compete directly with China in the international market, will be under more pressure due to this move by China. They might have to resort to devaluing their own currencies in order to remain competitive. In turn, this could lead to a currency war between the nations.
G20 pledge
The G20 finance ministers and central bankers pledged that they would remain committed "toward more market-determined exchange rate systems and exchange rate flexibility to reflect underlying fundamentals, and avoid persistent exchange rate misalignments." They also pledged to avoid competitive devaluations.
This remains to be seen, especially if China resorts to this move again. Given the slowdown in several economies, they may have little choice but to resort to currency wars. As a result, this G20 pledge will remain under scrutiny for some time.
Let's look at the fourth point of deliberation in the G20 Summit in the next part of this series—fiscal policy and structural reform.