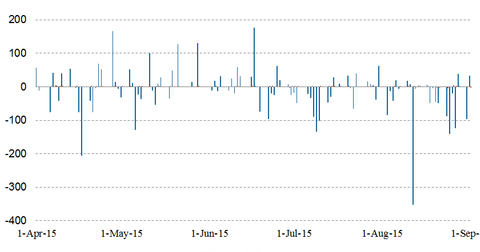 Fund Outflows Increase in XLK during Price Dips
By Adam Rogers

Updated
Relation between fund flows and prices
Since April 2015, the Technology Select Sector SPDR ETF (XLK) has seen a net outflow or redemption of $1.09 billion mainly due to macroeconomic factors negatively impacting performance of tech stocks. Between April 2015 and September 2015, XLK's share price fell in excess of 50 trading days where fund outflows amounted to $868 million. In contrast, on days when the ETF's price rose, the fund saw outflows of $229 million.
Article continues below advertisement
On August 21 and 24 this year, the share price of XLK fell 3.81% and 3.58%, respectively. Fund outflows stood at $49 million and $87 million, respectively. Fund outflows occurred on 29 days when the ETF saw a share price decline since April 2015. In contrast, net fund inflows occurred on 28 days where XLK saw a share price rise since April 2015.
The largest fund outflows of $353.28 million occurred on August 12, 2015, when XLK's share price rose 0.45%. The largest net inflow occurred when XLK's share price rose 0.04%.
44 hedge funds add XLK to their portfolio in 2Q15
According to the latest 13F filings, 44 hedge funds have created new positions in XLK, while 51 have closed or exited positions in the fund. There are 195 hedge funds that have increased positions in XLK, whereas 152 have reduced positions for 2Q15. There are 490 hedge funds holding this ETF with 44 of the filers having this stock in their top ten holdings.
The top holdings of XLK include tech heavyweights like Apple (AAPL), Microsoft (MSFT), Verizon (VZ), and Microchip (MCHP), which make up 18.08%, 8.58%, 4.91%, and 9.02% of the ETF, respectively.