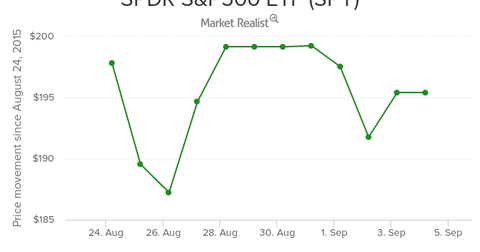 Frontier Communications Leads SPY with a 5.95% Return
By Renee Blakely

Updated
US stock market enjoys a respite from China-induced volatility
Thursday, September 3, was a less bumpy day for the SPDR S&P 500 ETF (SPY), with fewer fluctuations. The US market took a break from the volatility induced by the Chinese stock market, which was closed on Thursday for a two-day holiday. China's factories and markets had a long weekend for the country's celebration of the World War II victory day parade. The SPY closed at $195.55 with a gain of 0.07% for the day.
Below is a graph showing the SPDR S&P 500 ETF (SPY) movement for the past two weeks.
[marketrealist-chart id=636715]
We can see the wide fluctuations since August 24 and the subsequent stability since September 2, as the entire US stock market had been looking forward to the employment report released on Friday, September 4. The employment report contributes to the Fed's decision regarding interest rate hikes.
Article continues below advertisement
Top players on September 3
Frontier Communications (FTR) from the telecommunications sector rose 5.95% on September 3. The stock rose soon after the Federal Communications Commission, or FCC, approved FTR's proposal to acquire Verizon Communications's (VZ) operations in California, Texas, and Florida. The FCC is an independent US government agency that regulates interstate communication among all 50 states. The acquisition includes Verizon's wireline, broadband, and video operations. The acquisition will add to the scale of operations of FTR, strengthening its revenue with additional subscribers from 750,000 households. FTR stock had received 12 "buy" recommendations against five "hold" and no "sell" recommendations by analysts.
Also, Verizon Communications's (VZ) acquisition is anticipated to strengthen its cash position, which will help with debt repayments and future investment commitments. Therefore, the stock rose by 0.82% on September 3.
Other winners on September 3 were L Brands (LB) and Viacom Inc. Class B (VIAB), which returned 4.14% and 3.38%, respectively.
Let's look at how the other sectors fared on September 3 in the US stock market.